Meyer wants OSU to play with an edge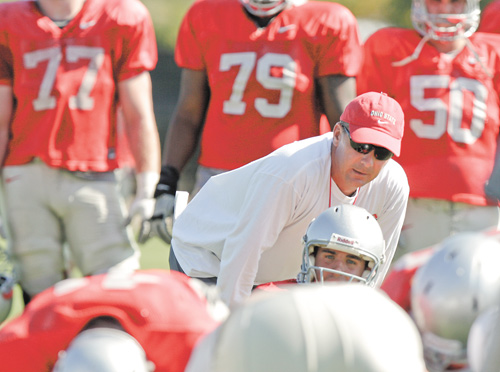 ---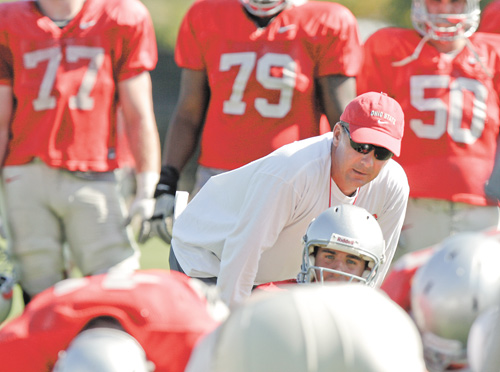 Photo
Ohio State coach Urban Meyer watches over Ben Buchanan during a field-goal drill at football practice in Columbus.
Associated Press
COLUMBUS
The embarrassments of a year ago might just stoke the fire for this year's Ohio State Buckeyes.
At least that's the hope — and a motivational game plan — of Urban Meyer.
Meyer, the ultra-successful coach at Bowling Green, Utah and Florida, is back coaching after spending a year away as a studio analyst. He saw from a distance the trials and travails of what was taking place at Ohio State — NCAA investigations and penalties, departures, suspensions and a woeful 6-7 season. He figured that the proud players still in the program took all of those hits personally.
"That's their legacy," Meyer said Monday as the Buckeyes began a week of prep for Saturday's opener against Miami (Ohio). "They're going to be known as that group."
Those still around feel as if they've been incorrectly labeled as bad actors, bad football players and bad people. Rather than discarding all the negativity from 2011, Meyer has used it as emotional leverage.
"I'll utilize any form of motivation I can to get guys angry because I love coaching angry teams," said Meyer, who won two national championships at Florida. "There's nothing like it. There's nothing like a group of kids that really want to prove someone wrong or prove something to someone. That's every coach's dream as opposed to the fat cat that sits back and (says), 'Hey, we're good. Don't worry about it.' "
The current Buckeyes certainly don't feel like fat cats. They come into the season riding a four-game losing skid. Their seven losses last season were the most for the program since just before the turn of the century — the 20th century — in 1897. The players who survived that dreadful year of negativity and snarky one-liners about tattoos, $200 stuffed into envelopes and high-paying summer jobs want to put all of that behind them.
But their coach isn't above reminding them.
"I mean, my job is to motivate 100 18-year-olds," Meyer said, a grin playing at the corners or his mouth. "If I see a window opening to go [tick] someone off to get them to go a little harder today, I've been known to do that a little bit."
Meyer is excited to get going. He was born in Ohio and grew up as a Buckeyes fan, and began his coaching career as a graduate assistant with the Buckeyes in the 1980s. He says that the school and football program have always been close to his heart, even as he chased coaching opportunities elsewhere.
Wide receiver Devin Smith said he was shocked when he heard Meyer had been hired.
"He's done tremendous things at the schools he's been [at]," Smith said. "He's changed programs and he's on a journey right now to change this program."
When athletic director Gene Smith beckoned him last November to take over the program, Meyer talked it over with his family and then, after promising to not overdo it at the exclusion of his family and health, he snapped up the job. It's a return to home for the native of Ashtabula, a lakeside town in the northeast corner of the state. Meyer attended and played football for the University of Cincinnati. He also decided he wanted to be a coach after serving on Earle Bruce's Buckeyes staff.
Now, he's come full circle.
Meyer keeps a folder with him on game day that helps to remind him to focus on what takes place on the field and not all the emotions surrounding it.
Yet he concedes that it's a futile battle.
"I'll be coming out of my shoes a little bit," he said, relishing coming out the tunnel and hearing the roar of 105,000 at old, hulking Ohio Stadium.