Mayor seeks 'accountability' with time clocks for workers
Tweet
Published: Tue, August 28, 2012 @ 12:06 a.m.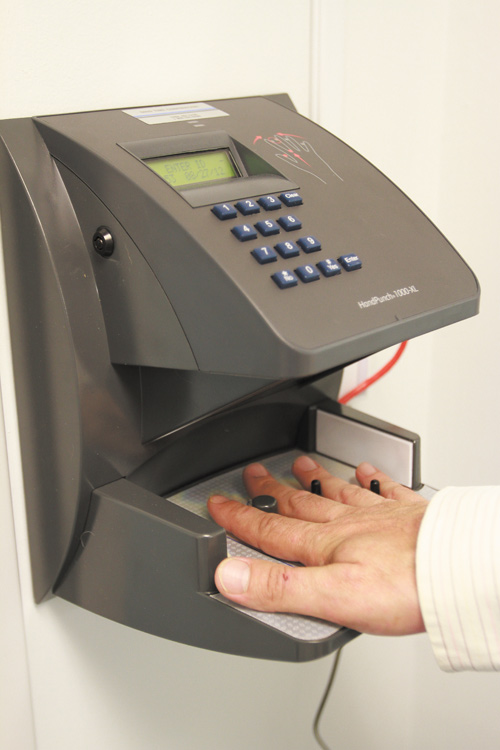 Photo
This is one of the 13 hand-detection time clocks being installed in city buildings in Youngstown. Starting Sept. 10, city employees, except police officers and firefighters, will be required to use the clocks.
YOUNGSTOWN
In his ongoing effort to increase accountability among city workers, Mayor Charles Sammarone is having hand-detection time clocks installed at city buildings.
City employees — except police officers and firefighters — will be required to use the time clocks starting Sept. 10.
"We met with the unions and there are no problems," Sammarone said. "We met with the supervisors and there are no problems. Everything is being done to improve accountability."
The city spent $23,000 to buy 13 time clocks from Ohio Time Corp., a Northfield company, said Rick Deak, the city's network administrator.
Police officers have roll calls, which monitors their time as city workers, and there are fire captains keeping track of firefighters reporting to work, Sammarone said. Also, it would be too expensive to have time clocks at every fire station, he said.
For other city employees, they must clock in when starting and ending their work days as well as for lunch and breaks, Sammarone said.
Employees must clock in on or before 8 a.m. and clock out at or after 4 p.m. Tardiness could result in discipline, Sammarone said.
Discipline begins with an oral reprimand for a first offense.
Also, employees who do not clock in or out when required will be subject to discipline, including dismissal for habitual offenders, he said.
Employees who work primarily out of the office, such as meter readers, must leave an itinerary of their workday with their supervisors.
City workers also must wear their city-issued identification badges upon entering city hall for security reasons, Sammarone said.
Meanwhile, the city will be ready by November to have Mahoning County take over its building department, saving Youngstown about $250,000 annually, the mayor said.
Plans are being finalized with the county, and Sammarone expects to have city council approve the merger at its next meeting, scheduled for Sept. 19.
It's the ideal time for the county to take over the city's building department with the retirement of the city's assistant chief enforcement officer, who is responsible for building inspections, and a secretary leaving that department for a job with the city's community development agency, Sammarone said.
That leaves Brenda Williams, the city's chief building official, as the only employee in the building department. She can be reassigned to a job in the city's engineering department, which has a couple of vacancies, or perhaps the county would be interested in hiring her, Sammarone added.
The city signed a contract in March to have the county inspect buildings in Youngstown that Sammarone said was the start of consolidation between the two governmental entities.
The mayor said he wants to use the money saved by the consolidation for housing demolition.
He also told The Vindicator on Monday that he's "looking at possibly selling mineral rights" to raise more money for demolition.
The city is spending $1 million of its own money and $1 million from a state program to take down vacant, dilapidated houses. That should pay for the demolition of about 270 houses, said Charles Shasho, deputy director of the city's public works department.
There are at least 4,000 residential houses that need to be demolished, however, Sammarone said.
The city council of Campbell voted last month to lease 167 acres to Hilcorp Energy Co. of Houston for $836,000 with the city also getting 20 percent of the royalties once the drilling starts.
Hilcorp also is in talks with Struthers for drilling rights on 100 to 150 acres there.
Hilcorp wants mineral-rights leases to extract natural gas through fracking, a process in which water, chemicals and sand are blasted into rocks thousands of feet below the ground to unlock natural gas and oil.
"I'm going to look into it," Sammarone said of mineral-rights leases. "One of the biggest complaints is demolition. I'd like to find another $1 million to $2 million for demolition. We've got to put more into the neighborhoods because we're losing too many people. We need to reverse that."