At Girard center, Cafaro discusses issues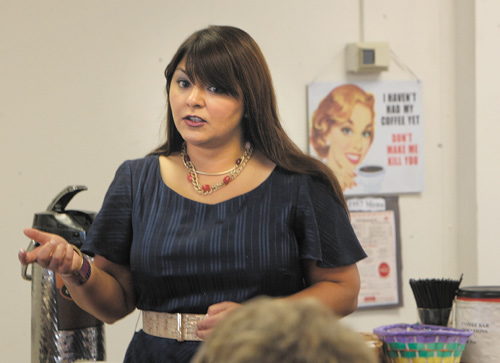 ---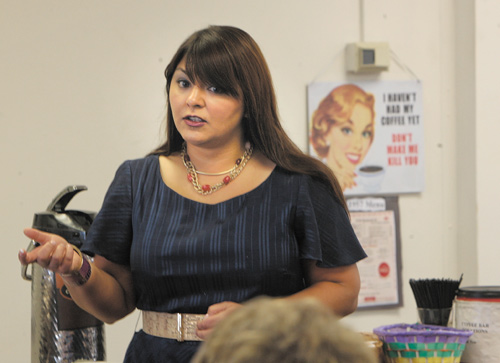 Photo
State Sen. Capri Cafaro of Liberty, D-32nd, gives a state legislative update to visitors at the Girard Multi-Generational Center. Cafaro spoke Monday, answering questions about pension reform for retired state workers and informing members about state issues.
By Danny Restivo
Girard
Local residents had a chance Monday to discuss issues with their state senator.
State Sen. Capri Cafaro of Liberty, D-32nd, paid a visit to the Multi-Generational Center to give some of her constituents a legislative update. Cafaro's district includes Trumbull and Ashtabula counties, and she is a member of the Insurance, Commerce and Labor committee in the Ohio Senate.
"It's always nice to come here, visit and let people know what's going on in the state level," said Cafaro, a five-year state senator who is up for re-election in November. Because she was speaking at a nonprofit organization, Cafaro said she couldn't support issues or speak about her campaign.
However, the Hubbard native did talk about new policies residents may encounter, including state Issue 2. If approved, the measure would create an independent committee charged with redistricting electoral maps in Ohio. Cafaro said the new law would help prevent gerrymandering, the process of drawing political maps in favor of one party.
"There is something to be said for fair competition in each district," said Cafaro
She also talked about benefits and what some retired public employees can expect.
Cafaro said members of the Ohio Public Employees Retirement system could see some changes, after a pension reform bill was passed by the state Senate in May.
She reassured listeners that if the bill is approved by the Ohio House of Representatives, it wouldn't affect current retirees.
She said a decision to alter contributions and payments lies with the pension boards, and not with legislation.
Cafaro also talked about the implementation of the new Affordable Healthcare Act within Ohio.
She explained how the new law would allow the state to expand benefits to people who would otherwise be uninsured.
"She gave the facts, but the states can still make some changes," said Jude Signoriello, a program director at the Multi-Generational Center.
She said Cafaro has shown support for the facility for more than five years.
"She is the only political person that comes here on a consistent basis and talks to people on an individual basis," said Signoriello.
John Budrevich of McDonald said he is an independent voter and is curious how the new health care law will affect him.
Either way, he said he will always support Cafaro.
"She is smart and very knowledgeable," he said. "Plus, she's part-Ukrainian."