Published: Mon, August 27, 2012 @ 12:09 a.m.
Greatest Golfer Day 3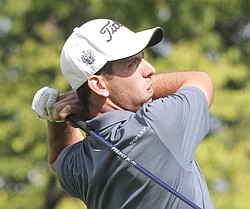 Gallery
Staff report
POLAND
Youngstown State University graduate Anthony Conn rode off with his second straight Greatest Golfer of the Valley Men's Open title on Sunday at The Lake Club, then rode off for a new job in Georgia that he had to be at today at 6:30 a.m.
Lori Bowden played limited golf this summer because she was caring for her mom. But she had enough game to claim the Women's Open title.
The Cook family of Girard had hoped it would be son Greg who earned that Greatest Golfer title that went to Conn. A Cook did win — but it was dad, Rod, in the 10-14 handicap division after a 25-foot birdie on the first tie-breaker hole. Greg's sister Abby won third place in the Women's 9+.
"I told them the Greatest Golfer trophy is going on the kitchen table for one year," Rod Cook said.
Those are among the story lines of the third Greatest Golfer of the Valley tourney hosted by Farmers National Bank and The Vindicator.
The 2012 Greatest Golfer of the Valley teed off Friday at Mill Creek Golf Course with 252 amateur golfers competing in 8 divisions.
The third annual event was played Saturday at Youngstown Country Club, Trumbull Country Club and Tippecanoe Country Club.
Sunday, 70 players who made the cut competed at The Lake Club in front of a crowd of 200 spectators.
The event has sold out every year after starting with 97 golfers two years ago.