Polish Youngstown celebrates fourth annual Polish Day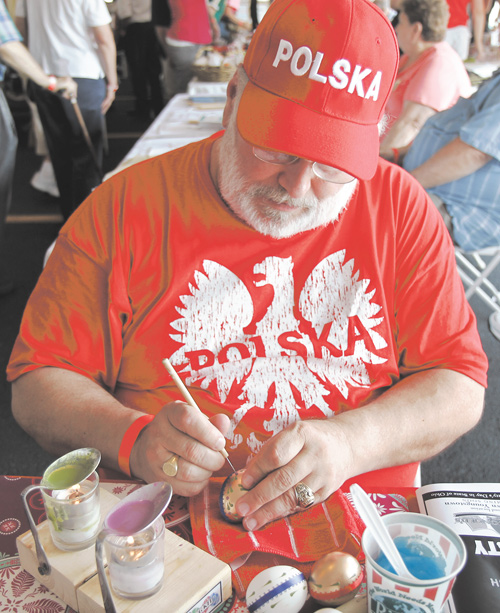 ---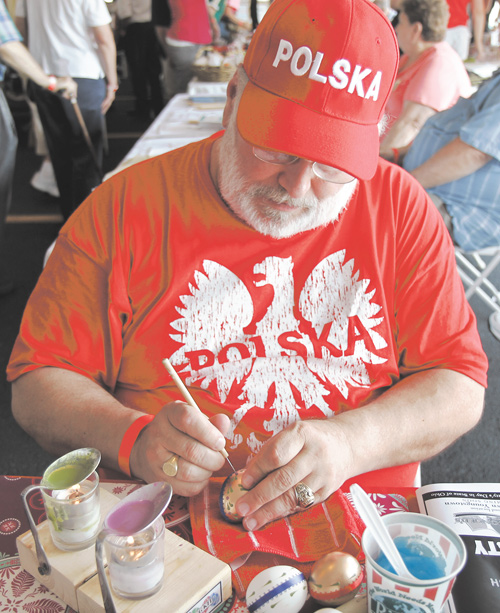 Photo
Larry Kozlowski of Pittsburgh decorates eggs with melted wax, a Polish tradition celebrated at Easter, at the fourth annual Polish Day on Sunday in Austintown.
AUSTINTOWN
Johanne Uhrain distinctly remembers being a 13-year-old and teaching 32 children traditional Polish dances at the Krakusy Hall on South Avenue.
Although the Krakusy Hall, a Polish social club, is now closed, its spirit lives on through Polish Youngstown, which had its fourth annual Polish Day on Sunday at the Austintown Plaza parking lot.
"I love it here," Uhrain said of the festival. "I just ran into two women who danced with me."
Aundrea Heschmeyer, director of Polish Youngstown, said many who attend tell her that they find people whom they haven't seen in a long time and visit with them.
"We live in a little town, but often we don't run into people any more. People say this reminds them of the old picnics at Idora Park and when all the family would go together," she said.
Uhrain, of Youngstown, and her friend, Michaelene Pollock of Masury, said it was their first time at Polish Day, and both said they enjoyed the atmosphere and the food.
"It's so good to see other Poles are here and the traditions are still going," Uhrain said.
Heschmeyer said this year's event, which moved from St. Anne's Church hall, was booming in attendance. The festival added activities on Saturday night, including "Zabawa," which loosely translates as a party with dancing, and an all-you-can-eat pierogi buffet.
"We went through 10,000 pierogi Saturday night. We ran out," she said.
Saturday drew more than 1,500 people, and the final tally will likely top several thousand.
"The difference between us and other festivals is that we try strive to teach people too, and that reaches their heart," Heschmeyer said.
Workshops offered ranged from genealogy to Polish cooking to traveling abroad. Larry Kozlowski taught the traditional Polish paper-cutting "wycinanki" workshop. He also had a craft table where he decorated eggs with melted wax.
"This is Youngstown's Memorial Day," said Kozlowski, of Pittsburgh, who taught at Alliance College, which was opened in 1912 by the Polish National Alliance and closed in 1988.
He said many people come to Polish Day to experience traditional songs, food and crafts that they remember from their grandparents, aunts, uncles and other relatives who might now be deceased.
"In that way, all the people who came before us live through again in our hearts and minds here. ... There's something very special about it, and in a way, it's a reunion of the living and the dead."