Gulf Coast braces for Isaac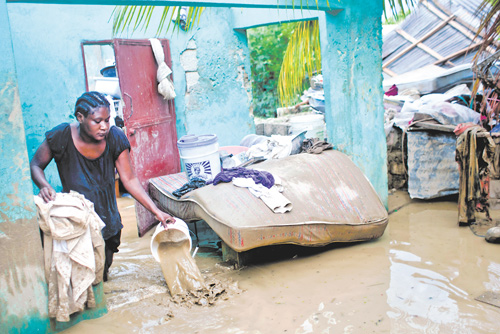 ---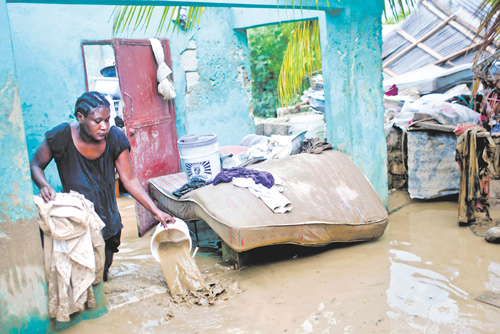 Photo
Finanette Guerrier, 29, bails muddy water from her fl ooded house after the passing of Tropical Storm Isaac in Port-au-Prince, Haiti, on Sunday. The death toll in Haiti from the storm has climbed to at least 10 after an initial report of four deaths, the Haitian government said Sunday.
Associated Press
KEY WEST, Fla.
Tropical Storm Isaac barely stirred Florida Keys residents from their fabled nonchalance Sunday, while the Gulf Coast braced for the possibility that the sprawling storm will strengthen into a dangerous hurricane by the time it makes landfall there.
It was on course to strike land on the seventh anniversary of Hurricane Katrina, a powerful storm that crippled New Orleans and the Gulf Coast and became a symbol of government ineptitude. Forecasters expected Isaac to pass the Keys late Sunday before turning northwest and striking as a Category 2 hurricane somewhere between New Orleans and the Florida Panhandle on Wednesday.
The National Hurricane Center issued a hurricane warning for a large swath of the northern Gulf Coast from east of Morgan City, La. — which includes the New Orleans area — to Destin, Fla. A Category 2 hurricane has sustained winds of between 96 and 110 mph.
Louisiana Gov. Bobby Jindal called a state of emergency and suggested that people begin leaving low-lying parts of the state. He also said he may skip a speaking engagement later this week at the Republican National Convention in Tampa unless the threat to his state subsides. Alabama Gov. Robert Bentley has also canceled his trip to the convention because of Isaac.
Elected leaders' vigilance toward tropical storms has heightened in the seven years since Katrina struck and became a symbol of government failure. More than 1,800 died, there were 53 levee breaches, and the federal government was viewed as late and unprepared to handle the aftermath. Criticism was leveled at officials reaching all the way to the White House.
An emergency declaration was issued in Mississippi by Gov. Phil Bryant amid concerns of storm surge threatening low-lying areas. Oil companies began evacuating workers from offshore oil rigs and cutting production in advance of Isaac.
The storm was on a course to pass west of Tampa, but it had already disrupted the Republicans' schedule there because of the likelihood of heavy rain and strong winds.
Even before reaching hurricane strength, Isaac caused considerable inconvenience, with more than 550 flights canceled at Miami International Airport and about 150 from Fort Lauderdale's airport. There were scattered power outages from Key West to Fort Lauderdale affecting more than 16,000 customers.