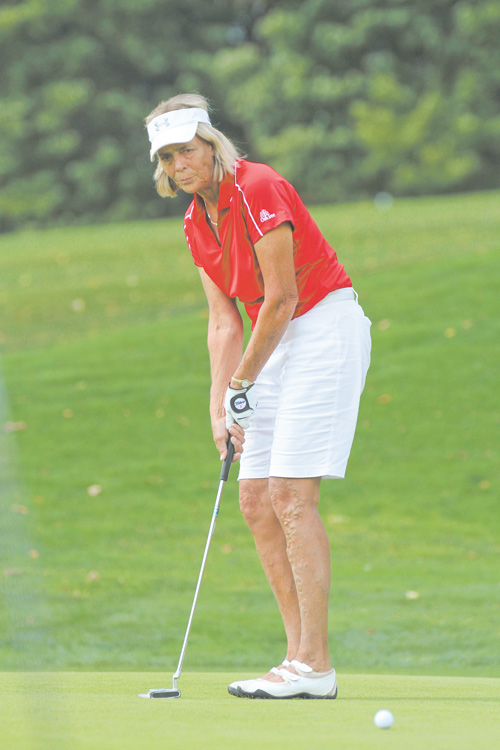 ---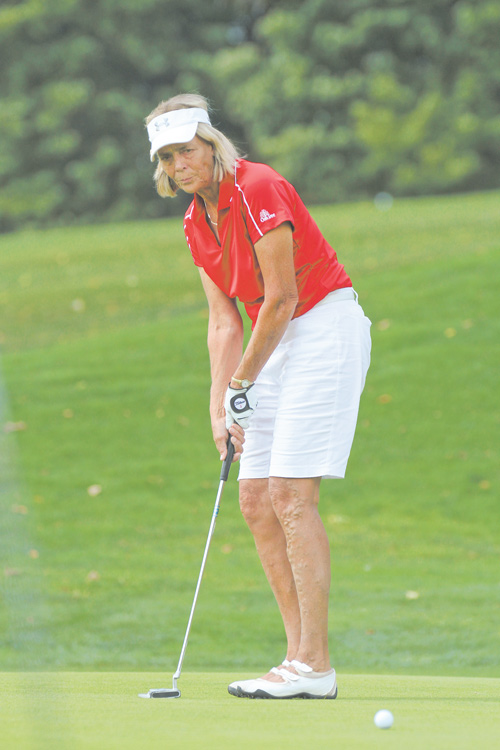 Photo
Marilyn Woods of Oak Tree Country Club putts during the final round of the 2012 Greatest Golfer of the Valley tournament Sunday at The Lake Club in Poland. Woods shot a 95 for the day and a 267 for the tournament to earn the title of Greatest in the Women's 9-Plus Handicap Division.
Eight golfers earn title of Greatest
By Ryan Buck
POLAND
There was no shortage in storylines at the 2012 Vindicator Greatest Golfer of the Valley tournament Sunday as competition was tight, the course was challenging and the setting was immaculate.
The tourney, presented by Farmers National Bank and The Vindicator, arrived at its exciting conclusion with a final round at The Lake Club. Eight divisions crowned champions from a field that began with 252 golfers on Friday's opening day.
Anthony Conn, Men's Open division defending champion, was a repeat winner after posting a final round 75.
Lori Bowden broke away from her Women's Open competitors for a 10-stroke victory.
Marilyn Woods maintained her Saturday lead in the Women's 9+ handicap division for a two-stroke victory.
Rod Cook needed a playoff hole to take first place in the 10-14 Handicap division while Dan Horacek emerged from the Men's 15+ Handicap field.
Rob Venrose held on for a one-stroke win in a tight race for the Men's 5-9 Handicap crown.
Saturday's Seniors leader, Pete Bennett, earned a five-shot win, while Ed Antonelli secured a third consecutive Greatest Golfer Super Seniors triumph.
Conn capitalized on his Saturday fireworks at Tippecanoe Country Club to coast to a seven-shot win. The former Youngstown State golfer fired a 67 on the tournament's second day.
"Today, I wasn't expecting a number or anything. I was just coming to play, have a good time, whatever happened, happened," Conn said. "It's tough to blow that lead. It feels really good. It was a pleasure to come out here and play well."
It was a nice going-away gift Conn gave himself. Three hours after his win, he hopped on a flight bound for Sea Island, Ga. He'll be caddying at Sea Island Golf resort today at 6:30 a.m.
Conn's ability to stay and play was a gift from Tippecanoe members, who bought his plane ticket on Saturday night so he could stay for Sunday's final. His original plans were to be driving on Sunday. Instead, he was flying – on and off the course.
"It just came up on Wednesday that I'll be headed down there, so it's kind of a last-minute deal, but you've got to take advantage of it when the time comes," Conn said.
Bowden, meanwhile, had an important phone call to make upon receiving her Women's Open first-place trophy.
She dialed her mother, Betty Bowden, who was at home and ill after years of health problems.
"That was my first call. I told her, 'Mommy, I won the trophy for you,' " she said.
The three-day grind took its toll on much of the field, but Bowden persevered.
"I focused, and I played very well yesterday," she said.
"Today, I was tired because I'm taking care of my mom," said Bowden, who estimates she's only able to play a round of golf weekly.
Woods squeaked by Pamela Porter by two strokes for her Women's 9+ title.
"My mindset was I was five strokes ahead and I just wanted to try to play bogey-golf, par a couple and everything was fine on the front," Woods said. "I just said, 'Enjoy the day, enjoy The Lake Club. I love golf.'"
Tied at 244 after 54 holes, Cook and Michael Guerrieri headed to the par four ninth hole to determine their 10-14 handicap division champion.
"I was kind of eating and relaxing hoping for a scorecard playoff, but it happened," Cook said.
"I hit a good drive for me, then a good 4-iron into the green to maybe 20 feet," Cook said.
Guerreri recovered from an errant tee shot, putting his second shot to 30 feet. He three-putted. Cook only needed one putt.
"I got lucky, hit the cup [for birdie and the win]," Cook said. "If I didn't hit the cup, I'd have a five footer [coming back]."
Austintown's Horacek was admittedly emotional following his four-stroke win in the 15+ handicap division.
"I have cerebral palsy in my legs and I never really considered myself that good of a golfer," He said. "I guess I consider myself an average player. But this is sort of icing on the cake saying that I can play this game.
"I teach Special Education in the Youngstown City Schools and I try telling my kids that anything's possible. So I think I just proved, myself, that anything is possible."
Horacek trailed by two strokes headed into the final nine holes.
"Anybody could have won this thing. I just got hot at the right time."
Venrose, who had the lead the 5-9 handicappers after two rounds, battled a tough layout as he outlasted Greg Wykle and Larry McCall by one and two strokes, respectively, despite struggles on the greens.
"It's a grind, that's for sure," Venrose said. "I think probably about the 10th hole I figured, just go out and have fun and I was hitting the ball well, just didn't putt very well today."
Antonelli and Thomas Kinkela traded momentum all morning as both vied for the Super Seniors crown. Antonelli's long birdie putt on the 17th gave the three-time champion a two-stroke lead. Kinkela chipped in for birdie on 18 to slice the difference to one stroke.
Antonelli made his putts to prevail.
In the Seniors group, Bennett's steady round of 77 carried his Saturday advantage to a trip to the trophy presentation. He was five strokes better than Gary Fulton, who carded the low round of 74, and 10 better than Orlando Santiago.