Black Knights plan community outreach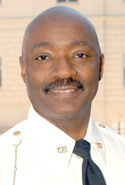 ---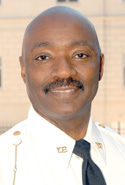 Photo
YOUNGSTOWN
The Black Knights Police Association has been around for nearly four decades, but association officials say the public will see a more energized organization with more community involvement in the near future.
The association was established in 1975 by 12 black police officers with a list of goals that included preventing corruption and discrimination, improving relationships with the community and being instrumental in the recruitment of black police officers.
It was the BKPA that successfully sued the city to have more blacks promoted as administrators.
The organization earlier this year elected new officers and, with former police chief Jimmy Hughes at the helm and retired officer Delphine Baldwin-Casey as public relations director, they are looking to bolster the association's community impact.
Baldwin-Casey said the BKPA will continue to be a gateway welcoming those in the minority community who may be reluctant to deal with police in general and want interaction with a minority officer, but the organization plans to go further.
Hughes and Baldwin-Casey said the organization is looking to work with young people and the community at large.
"We believe in the role-model approach and being active with the youth programs, working hand in hand with the youth," Hughes said.
Baldwin-Casey said one of the methods the BKPA will use to increase the connection with youth and the community is a reinstatement of the youth and citizens' police academies. Baldwin-Casey conducted similar citizen police academies before retiring from the Youngstown Police Department.
"People are still asking about those programs. Those were really successful programs," Baldwin-Casey said. "Not only did we encourage kids to become police officers, but we opened up every area of law enforcement from police to FBI to judges to let those kids know how far they can go."
The organization has always maintained a scholarship fund, but Hughes said he would like to see that fund used to ensure that young people interested in law enforcement can pay for the necessary training to make that dream a reality.
Hughes said the BKPA has always been an advocate for minority officers, but the organization, he said, would like to have a greater influence in getting officers additional training once they are on the job.
"We want to increase our activity level. We want to work with various officers to make them aware of training going on throughout the state and possibly offer some of that same training here," he said.
Hughes said the organization will continue with those things it has done in the past such as providing food baskets and vouchers during the holidays. It will also look to eventually open the doors to its headquarters on Oakland Avenue near Superior Street in the city's Brier Hill section of the North Side.
"We have always tried to figure out ways to open the door to the community. I see this being an education center, a youth facility and a place where people can just come in and take advantage of what we have to offer," he said. "I believe it is important to stay close to the community."