Pool party honors Tofils for their 50 years of marriage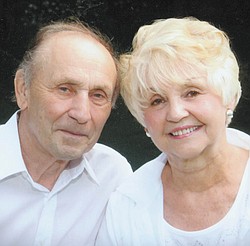 Photo
AUSTINTOWN
A family pool party May 26 at the home of Amy and John DiRenzo of Austintown honored Ron and Joyce Tofil of Austintown for their 50th wedding anniversary.
The couple also received a special blessing by the Rev. Gregory Fedor during a Mass at St. Joseph Church.
The former Joyce Billy and Ronald Tofil were married May 26, 1962, at Holy Trinity Ukrainian Catholic Church in Youngstown.
Their children are Todd (Kim) Tofil of Brunswick, Ohio; Dr. Scott (Felicia) Tofil of Struthers; Pamela (Brad) Rodgers of Westerville, Ohio; the DiRenzos; Lt. Col. Robert (Debbie) Tofil of Litchfield, Ariz.; and Dr. Eric (Dr. Nancy) Tofil of Birmingham, Ala.
The family includes 18 grandchildren: Aaron, Seth, Danny, Carlisle, Mackenzie, Taylor, Mitchell, Cole, Lance, Claire, Jarod and Ryan Tofil; Brandon and Steffanie Rodgers; and Vincent, Gianna, Sophia and Isabella DiRenzo.
Mr. Tofil was a teacher for Youngstown Schools before beginning his construction business, RonDon Construction.
Mrs. Tofil worked for Austintown, Youngstown and Struthers schools, and the Mahoning County Educational Service Center .
A river cruise on the Danube in Central Europe is being planned for next year.