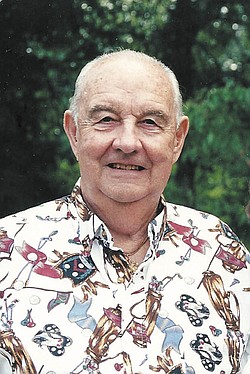 Photo
HAPPY 90TH BIRTHDAY
John Flint
Residence: Canfield.
Date of birth: Aug. 26, 1922.
Place: Youngstown.
FAMILY
Parents: Frank and Louise (Halt) Flint.
Siblings: Dave Flint of Exton, Pa.; Barb Williams of Youngstown; and Frank Flint, who is deceased.
Spouse: Margaret Flint.
When and where married: March 8, 1943, in Madison, Wis.
Children: Patricia Minzner of Lawrenceburg, Ind.; John Flint of Clearwater, Fla.; and Randy Flint of Alliance.
Grandchildren: Six; one is deceased.
Great-grandchildren: Three.
BACKGROUND
Education: South High School graduate.
Employment: Keystone Trucking, A&P Grocery and retired from Schwebel Baking Co. in 1980.
Church membership: Charter member of St. Christine Church.
Club membership: Knights of Columbus.
Military service: U.S. Air Force; served in the Philippines in World War II.
CELEBRATIONS
Recently celebrated with family at Hartville Kitchen and at his Canfield home.