Conn, Antonelli repeat as Greatest; 6 others join golf royalty
Greatest Golfer 2012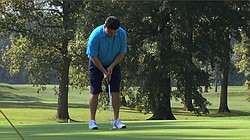 Video
Competitors of the 2012 Greatest Golfer of the Valley tourney offer their insights and expectations for this year's competition.
Greatest Golfer Day 2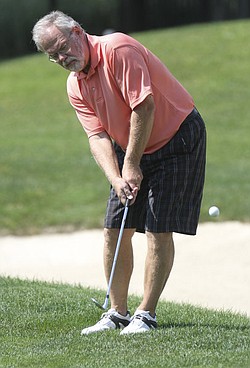 Gallery
The Greatest Golfer Day 2
SUNDAY AFTERNOON COMPETITION:
Here are the results from Sunday's competition.
Watch for full coverage in Monday's Vindicator.
SUNDAY MORNING STORY BELOW:
By Ryan Buck
sports@vindy.com
Saturday decided the contenders from the pretenders at the third annual Vindicator's Greatest Golfer of the Valley, presented by Farmers National Bank.
The second day of the tournament brought the field of 252 players to three area courses. The top aggregate scores in each division, after Friday's opening round at Mill Creek Golf Course, decided who would advance to the final round today at The Lake Club.
Men's Open Division
Defending champion Anthony Conn brought Tippecanoe Country Club to its knees Saturday with a 5-under 67, the day's low round. The former Youngstown State Penguin followed up his opening day 71 with a 32 on Tippecanoe's back nine.
"Honestly the whole day I hit my driver well," Conn said. "I hit everything solid and right where I was aimed. That and the putts were rolling in."
Conn managed a bogey-free round, prime position for a run at a second-straight title.
"I made zero mistakes today and I made birdies where I needed to," he said.
Former Penguin teammate Mark Albrecht, caddying for his friend, has Conn playing confidently and in a familiar position.
"I'll go out there to have fun and not worry about anything," Conn said.
Jonah Karzmer, another former Penguin, trails Conn by eight strokes heading into today's final round. Zack Mansky and Scott Porter are nine back.
Men's 10-14 Handicap Division
Hank Morris battled the challenging set-up at Youngstown Country Club en route to a second round 80. His aggregate score of 157 has the Poland native in the mix for the division crown.
"I'm going to have the same mindset that I've had the first two days, which is: most golf tournaments are lost versus won,'" Morris said. "I'm going in there like it's a practice round. Don't let anyone else around me, playing with me, the crowd, whatever it may be, just play my game.
"Play within myself, make the right decisions when you're in trouble and putt well."
Morris carries a four-shot lead into the finals. Chuck Petrosky sits at an aggregate score of 161. Griffin Todd, playing in his first golf tournament, fired a 79 to bounce back from a first round 83.
Mike Guerrieri and Rod Cook are even with Todd.
Men's Super Seniors Division
Jerry Rehak's second round 75 at Youngstown Country Club propelled the Mill Creek Golf veteran into fourth place in the Super Seniors group. He's three strokes back of Ed Antonelli, two of Thomas Kinkela, and one off Ed Vechiarelli.
He grabbed the low round of the day after a disappointing 81 at Mill Creek on Friday.
"Well, I was hitting the tee shot well and I was putting extremely well compared to [Friday]," Rehak said. "Things didn't go right; today they went right. Golf is an up-and-down game. Some days it's good, some days it's bad."
Rehak and the Super Seniors have the opening tee times today at The Lake Club.
Men's 5-9 Handicap Division
Rob Denrose's second-round 73, the low for the course, was good enough to overtake Larry McCall for the 5-9 handicap division lead. Denrose's aggregate 148 leads McCall by three strokes after his performance at Trumbull Country Club Saturday.
"Putts were just falling for me today," Denrose said.
The Poland native finished fourth in last year's event and wants to maintain a relaxed demeanor for today's round.
"I think last year it was a long weekend in that you're always working to score," Denrose said. "It was just a grind. Today I relaxed enjoyed the moment. Now I'll relax and enjoy the day,"
Paul Bindas, Marty Fitzgerald, and Greg Wykle are close behind with aggregate scores of 153.
Men's 15+ Handicap Division
The final holes along Lake Evans will set the stage today for the men's 15-plus handicap title. Four golfers have separated from the pack.
Dan Horacek and David Peduzzi sit at the top of the group with dueling 175 aggregate strokes upon completion of their Saturday rounds at Trumbull.
One shot back, John Elias and Friday's leader, Phil Roudebush, are lurking.
Ladies' Open Division
Lori Bowden raced past Friday's leader, Joan Ash, Saturday at Trumbull. Bowden's 78 gives her an aggregate score of 156, five better than Ash, the 2010 Greatest Golfer champion.
"I mainly kept the ball down the middle, stayed out of the rough and the trouble, and putted well," said Bowden, a Canfield resident.
"It's all about focusing to me, one shot at a time," she she said of her final-round mindset.
Toni Notaro is eight back at 164 total strokes.
Ladies' 9+ Handicap Division
Marilyn Woods leads the trio of qualifiers into today's finals. Woods posted the ladies' 9-plus handicap division's low round of 82 at Youngstown Country Club.
Pamela Porter, who led following Day One, trails Woods by five strokes. Girard's Abby Cook is eight strokes off the lead with an aggregate of 180.