Bloses to mark 50th anniversary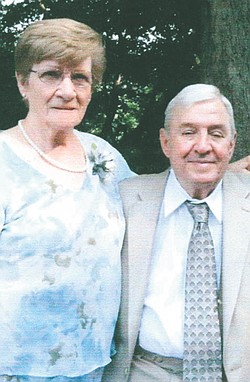 Photo
Mr. and Mrs. Leland Blose
NILES
Celebrating 50 years of marriage are Leland and Helen Blose of Niles.
The former Helen Mae McCoy became the bride of Mr. Blose on Aug. 18, 1962, at Enon Valley United Presbyterian Church, Enon Valley, Pa.
Mr. Blose retired from Sprint Telephone in 1994. Mrs. Blose retired from Crest Lanes in Warren in 2009.
Invitations have been issued for a celebration in their honor from 2 to 5 p.m. Sept. 2 at Aulizio's Banquet Center, 4395 Youngstown-Warren Road, Warren. This is a change of location from the invitations.
Their children are Mark Blose Sr. of Niles; Jim (Kathy) Blose of Leavittsburg; Lisa (Bill) Johnson of Danville, Iowa; and Pat (Tim) Martinson of Copley, Ohio. There are four grandchildren: Mark Jr. and Trevor Blose and Ava and Abby Johnson; four step-grandchildren: Tiffany (Todd) Shearon, Bill Rose, Lynette Johnson and John McDonie; and a step great-granddaughter, Kayla Shearon.