Milton, Richards shoot dueling 69s to share Greatest first-round lead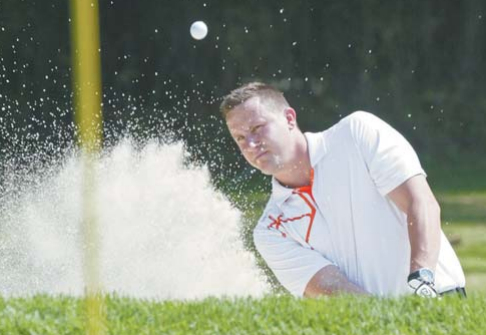 ---
Milton, Richards shoot dueling 69s
to share Greatest first-round lead
Scores:
Pete Mollica Men's Open Division Click here.
Men (5-9 Handicap) Click here.
Men (10-14 Handicap) Click here.
Men (15+ Handicap) Click here.
Women (Open to 8 Handicap) Click here.
Women (9+ Handicap) Click here.
Seniors (Age 60+) Click here.
Super Seniors (Age 70+) Click here.
Tee times:
Friday and Saturday are all located on this page. Click here.
By Ryan Buck
CANFIELD
The calm blue skies and fresh-cut grass of the Mill Creek Park Golf Course provided the backdrop for the third annual Vindicator Greatest Golfer of the Valley presented by Farmers National Bank.
A total of 252 golfers teed off Friday on both sides of the 36-hole venue, each hoping for the strong start that would propel them into tournament contention.
Scores are very tight in the Men's Open Division as a strong cast leads the field. Glen Milton and Andrew Richards fired matching 1-under 69s on the North Course to pace the Men's Open Division after one round of play.
"I feel pretty comfortable with my score today," said Milton, a Struthers native. "I know there's some pretty good players and some pretty good scores right there with me. I know I'll have to play really good tomorrow."
Milton found confidence with his putter as the morning wore on.
"I made some pretty big putts that kept me in it," he said. " I really didn't think I was striking the ball all that great today."
Milton expects fast greens today at Tippecanoe Country Club.
"I'll have to be careful and stay in control," he said.
Three other golfers are within one shot of the lead. Jonah Karzmer, Zack Mansky and Nate Mullen are one stroke back. Defending champion Anthony Conn sits two back after his opening-day 71.
Second-round play begins this morning at Tippecanoe.
Men's Seniors Division
Pete Bennett has the lead in the men's seniors division, posting a 1-under 69 on Mill Creek's South course.
Bennett, of Poland, might have a home-course advantage today.
"Well, we're playing at Tippecanoe tomorrow and that's my home course," he said. "I'll just be looking to keep the ball in play."
Ray Vershum sits one off the lead after his even-par 70. Adrian Mangino and Orlando Santiago are two back after their matching 72s.
Men's Super Seniors Division
Two-time super seniors champion Ed Antonelli takes a two-stroke lead into today's play at Youngstown Country Club after an opening-round 73 on the Mill Creek South course.
"Well, since it's a tournament it's always nerve-wracking because we're not used to playing in that many tournaments anymore," said Antonelli, whose home course is Avalon Lakes. "We're used to playing with our buddies so there's that comfort zone. It's really tough."
The tournament veteran puts a premium on composure.
"Just ask anyone who plays in it," he said. "You do things you don't normally do and most of them aren't good. You hit shots you're not used to hitting, you miss putts you're not used to missing. It's the nature of tournament golf.
"I'm not that comfortable, but I'm happy with my score."
Dominic Vechiarelli trails by two shots after his 75, while James Hovall and Thomas Kinkela each shot 76 to keep within striking distance.
Men's 5-9 Handicap Division
Dr. Larry McCall tamed the North course in the men's 5-9 handicap division. McCall's strong start, a front-nine 34, leaves the Canfield native with a two-shot advantage headed into today's round at Trumbull Country Club.
"I hit the ball pretty well," McCall said. "I made a few putts on the front, but I missed a boatload on the back. If you'd have told me I'd have 73 to start with, I'd have taken it, but I felt like I should be in the 60s coming in. The last three or four holes I gave that away."
Rob Venrose is two back. Scott Bradley, Dan Stanton, Brad Koch and Greg Wykle all shot 76 Friday to stay close.
Ladies' Open Division
Joan Ash, of Youngstown, leads the group after her opening 76 on the North Course.
Ash, who won the inaugural Greatest Golfer title and finished in second place in 2011, used her familiarity with the Mill Creek layout to her advantage after time off from shoulder problems.
"It was priceless for me today because I wasn't hitting a lot of greens and knowing how to get up-and-down on a Donald Ross (designed) course is essential," Ash said.
Her par saves throughout the round were crucial in building the lead.
"I wouldn't have posted the 76 if I couldn't get up-and-down," Ash said. "The nice thing is the course is in great shape, so if you get somewhere near and pay attention you can get up-and-down. The greens were rolling great."
Men's 10-14 Handicap Division
Hank Morris' 77 tops a crowded leaderboard in the men's 10-14 handicap group.
Rich Perrine and Michael Guerrieri are one back at 78 headed into today's rounds at Youngstown Country Club.
Guerrieri overcame a poor start to stay in contention. The narrow fairways and thick woods on the South course were trouble for much of the field.
"Yeah, it was rough," Guerrieri said. "I double-bogeyed two or three holes on the front and I three-putted No. 5, but I got it going. I made four birdies on the other side."
Leonard Mochytak, Chuck Petrosky and Anthony Capogreco are all in contention with 79s.
Ladies' 9-PLUS Handicap Division
Everything was going Pamela Porter's way in the ladies 9-plus handicap group. An 81 on the North Course has Porter five strokes ahead of the field after Friday's action.
"I played very well today," Porter said. "My chipping was good today, some long and straight drives got me going and I putted well."
Porter leads Rita Shepard (86), Michele Caputo (87), and Abby Cook (89) into today's round at Youngstown Country Club.
Men's 15-plus Handicap Division
A quartet of golfers has emerged from the men's 15-plus handicap division in preparation for today's action at Youngstown Country Club.
Phil Roudebush's 83 leads Dan Horacek (84) and the tandem of John Elias and Steve Martin (85).
For more tournament coverage, see Vindy.com/golf and on Twitter @VindyGreatest.