Wow! Kapow! Bam! Batman fulfills wish of Jayden Barber of Boardman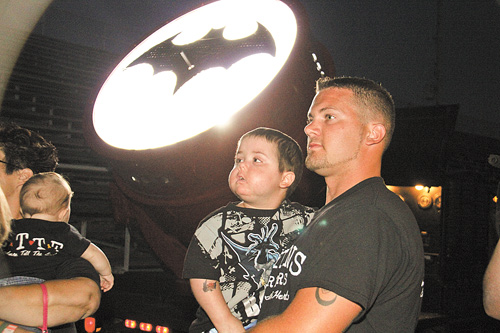 Photo
Jayden Barber, 4, and his father, Tim Barber, look into them sky at a helicopter that was drawn to the Boardman High School football field by the Bat Signal behind them.
Wow! Kapow! Bam! Batman fulfills wish of Boardman boy
By Sean Barron
BOARDMAN
Holy big turnout! Batman was in the house!
That certainly more than suited 4-year-old Jayden J. Barber.
"This is just amazing, a blessing," said Jayden's father, Tim Barber, referring to the family, friends and residents who filled the stands at Boardman Center Middle School's football field on Market Street to see Jayden meet his favorite hero, Batman.
The event Thursday certainly did not disappoint. It allowed him to meet the Caped Crusader, which fulfilled one of the biggest wishes for Jayden, who was diagnosed last November with myelodysplastic syndromes leukemia, a disease in which the bone marrow fails to make enough normal blood cells.
Jayden, his dad and mom, Charlene Barber; and brothers, Noah and Carson, arrived with a police escort, then emerged on the track next to the field from their blue Nissan Altima to thunderous applause.
Before Batman arrived in his famous Batmobile and made Jayden the hero for the day, Jayden got to light the Bat Signal on the track as most attendees cheered and chanted "Jayden, Jayden…."
Also on hand to meet Jayden and his family were other superheroes, including Wonder Woman, Spiderman, Captain America and Wolverine, from the movie "X Men."
Many people who came to the gathering to see Jayden's dream come true were members of Jayden's Warriors, a group of more than 30,000 members on Facebook who pray for the boy and his family and offer emotional and other types of support, noted Kelley Platt, an event organizer.
The group also is trying via emails and calls to get actor Christian Bale to meet Jayden, Platt continued.
Bale portrays Batman in the 2012 blockbuster hit "The Dark Knight Rises," the third installment of Nolan's Batman film trilogy.
Platt said she was overwhelmed by the community support, adding: "It was worth it to see the smile on [Jayden's] face."
Batman also declared Aug. 23 as Jayden Barber Day in Youngstown before giving the Barber family a key to Boardman Township.
"Would you mind if I take Jayden for a ride?" Batman asked fellow superheroes.
After receiving no objections, Jayden and his family got to ride in the Batmobile to fight crime and make the streets of Boardman a bit saf