Students work to beautify grounds in Liberty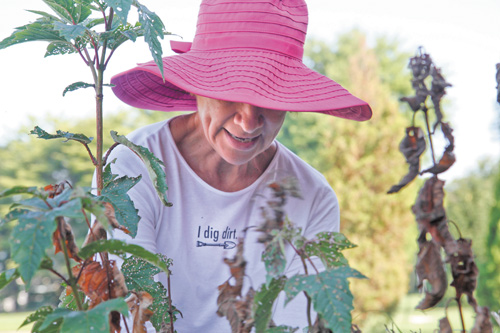 Photo
Janet Yaniglos of Liberty lends a hand by weeding plants. Yaniglos is a member of Liberty-in-Bloom, a garden club that joined the wrestling teams in an effort to beautify the school grounds.
Students work to beautify grounds in Liberty
By Danny Restivo
LIBERTY
While many young people are looking for ways to soak up the final days of summer break before school starts, a small group of students has returned to school early to make sure their classmates have a respectable place in which to learn for the upcoming year.
"It shows the respect we have for our school and our community," said senior Brandon Jefferson. He and seven of his fellow wrestling teammates spent Wednesday and Thursday pulling weeds, laying mulch, trimming branches and performing ground maintenance in an effort to beautify the schools before their first day on Monday. The Liberty junior-high and high-school wrestling squads teamed up with Liberty-in-Bloom, a local garden club, to clean-up the elementary, junior high and high school grounds.
"It presents a real nice picture for the kids coming to school every day," said Janet Yaniglos of Liberty-in-Bloom.
She said the project was the brainchild of high-school wrestling coach and 1990 Liberty graduate Hadi Hadi.
"We wanted to do our part and show some pride in our school," he said. "It was the team's idea."
Hadi said the team formulated the project after their season ended in March. They talked about cleaning up the school and making it look nice as a show of support for the community, he said.
Jefferson, a wrestling captain, helped several of
his teammates with shoveling and moving wheelbarrows full of mulch throughout the two-day project. He said the work was especially tiring for him because he had football practice the night before. But he knows the fruits of their labor aren't going unnoticed.
"I think its great that they're taking pride in the their school," said Vicki Antenucci, a seventh-grade language-arts teacher. "It's an example for the rest of the students to follow."
While the team prepared the outside of school for students to see, Antenucci and other teachers prepared classrooms and lesson plans on the inside.
Even though school starts in three days, Hadi said they plan to maintain the grounds into next year. The team hopes to plant some perennials in the fall and more flowers in the spring. He said the team will need help from other students to ensure the grounds are maintained when the team kicks off its wrestling season in the winter.