Shaner shines in Niles debut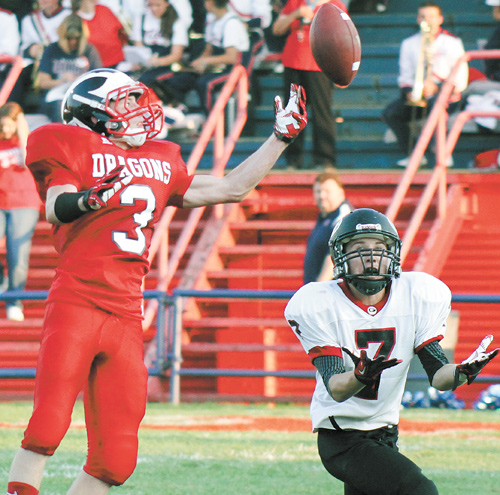 Photo
Niles' Aaron Watson (3) breaks up a pass intended for Girard's Collin Cramer(7) during the first quarter of Thursday's game in Niles. The Red Dragons downed the Indians, 34-13.
NILES
On the sideline after Stefan Yuhas ran 2 yards for Niles' fifth and final touchdown of Thursday night's 34-13 season-opening win over Girard, Brian Shaner lifted one finger in the air.
It most likely meant for the special teams to attempt the point after field goal, but it signified much more.
Shaner got his first victory in his first game as the new head coach of the Red Dragons.
"It couldn't be any better," Shaner said. "To see the fans come running down and meeting these players in the end zone, it's all about the kids. They made the city of Niles really proud."
In front of a capacity crowd at Bo Rein Stadium, it was the Red Dragons' fourth-straight Week 1 win and first win over Girard since 2007.
"This is exactly what I expected," Yuhas said.
The 5-foot-10, 175-pound senior quarterback ran for 130 yards on 26 attempts and threw for 92 yards, completing 33-percent of his passes.
"We told him he could be special," said Shaner, who previously coached at East and Rayen. "If he keeps his head on straight and listening and doing things the right way, he's going to make a name for himself."
Late in the first quarter, Yuhas put Niles on the board with a 64-yard heave to Chris Hillier for the game's first touchdown. Originally, he muffed the snap and had to chase the ball down for three yards. Still, he corraled it, set his feet and turned something out of nothing.
"I was nervous when it came out, but I still had something to work with, I saw Chris, got it out to him and trusted he could go with it," Yuhas said.
On Girard's first play of the next possession, Nick Lardas recovered a Vince Maderitz fumble that set up Niles' next score — a 26-yard scamper by Yuhas.
The Indians responded with 13 unanswered points in the second quarter, but gave up a touchdown with just 1:38 left until halftime.
"We go in there 14-13, we creep up a little bit and it's a whole new ball game," Girard coach Nick Cochran said. "Our guys had some big eyes out there. They were a little nervous."
Marcus Hill scored the touchdown that extended the Red Dragons' lead by eight points. He caught a Yuhas pass in the flat and appeared to be going down after a short gain. However, he kept his feet moving as he was being tackled and was able to free himself for a 15-yard score after Hillier helped with a cracking block.
"Winning and scoring on opening night is just great," Hill said. "It feels awesome."
The junior said that this year feels different already, Shaner is a big reason for that.
"He's a good coach, kind of crazy, but he's a good coach," Hill said. "He's loud on the sidelines and it's like he's in the huddle with us, you can feel him on the field."
Jordan Graziano led the Indians' offensive attack with 70 yards on 21 carries. In the second half, though, he was held to just five yards.
"That kid's tough as nails," Shaner said. "He took a pounding and just kept coming and coming. Our defense took that as a challenge and wore him down."
Cochran is confident his team can bounce back. It wasn't the opening night result he expected, but he's happy to get back to doing what he loves.
"I'd rather have these Thursday and Friday nights every week than a practice," Cochran said. "I love these games."
James Cupan tallied 71 yards rushing for Girard with a long of 30. Graziano scored its first touchdown with a 63-yard run. For Niles, Marc Kramer added 23 yards on the ground. Yuhas and Hill each had an interception.