Rusinowski steps up to cage Tigers
McDonald @ New Springfield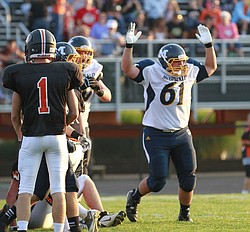 Gallery
By Tom Williams
NEW MIDDLETOWN
Before Thursday's opener at Springfield High, McDonald football coach Dan Williams challenged his four seniors to step up and lead.
Christian Rusinowski heard him loud and clear.
The Blue Devils quarterback found unguarded Cameron Ifft in the end zone for a 16-yard touchdown, booted (barely) the only successful conversion kick of the game and blocked Chris Wells' field-goal attempt in the fourth quarter in McDonald's 13-12 victory.
"My O-line did a great job holding everybody off," said Rusinowski, deflecting credit the way Williams prefers.
After losing tackle Carson Williams (the Blue Devils' only returning starter) to an ankle injury in the first series, Dan Williams said the Blue Devils were as inexperienced as possible.
Still, Jake Foster, Jacob Billock, Caleb Dimery, Albert Yates and Matt Manna excelled as the Blue Devils rushed 53 times for 226 yards.
"Our game plan was to run clock and shorten the game," Dan Williams said. "Christian made some good throws in the first half."
The Blue Devils limited the Tigers to three plays in the opening quarter to set the tone.
On their second possession, Williams rolled the dice on fourth-and-1 at midfield. In punt formation, the ball was snapped to upman PJ Mansky who rambled 32 yards to the Springfield 25.
"Those work once every five years," said Williams, who admitted his team hadn't tried a fake punt for at least three seasons. "Sometimes you've got to take chances, you've got to gamble. That's done for three more years now."
Rusinowski's first clutch pass came on a fourth-and-9 at the Springfield 13. Tigers defender Christian Feezle tipped Rusinowski's pass, but receiver Steve Vidman pulled it in for a 9-yard gain, setting up Randy Walters' 2-yard touchdown run.
"The corner made a good read, and I probably shouldn't have thrown that," Rusinowski said. "Vidman just did a phenomenal job."
Springfield coach Sean Guerriero said, "The ball bounced their way on that."
The Tigers responded with a six-play, 81-yard drive capped by Ryan Kohler's 9-yard scoring run for a 6-6 tie.
The Blue Devils produced another long drive capped by Rusinowski finding Ifft alone near the sideline for a 12-6 lead. Rusinowski's extra-point kick cleared the crossbar, but not by much.
"We had a new center in there," said Rusinowski, referring to Randy Walters. "His snap was perfect. I'm just glad that I could help."
In the third quarter, Kohler burst through the Blue Devils' line for a 52-yard touchdown to slice McDonald's lead to one. The extra-point kick failed.
Rusinowski saved his biggest play for the final quarter. On the Tigers' next possession, Wells tried a 27-yard field goal with 8:19.
"I just got between the guard and the center and I had a straight shot to the ball," Rusinowski said. "I laid out and it hit me right in the stomach."
Guerriero said special teams made the difference.
"Those are things we need to fix going into Week Two because we definitely did lose the special teams battle," Guerriero said.
Mansky rushed for 86 yards and Ifft 70. Kohler led the Tigers with 89 yards while Wells had 58.
"Our kids were playing hard tonight, they never gave up," Guerriero said of the second-half rally. There were some opportunities there — the ball just didn't bounce our way."