Ex-Canfield DQ owner returns to court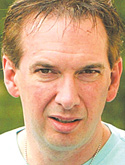 Photo
By Elise Franco
Youngstown
Drug and sex offender Trent Rapp's arrest for violating probation didn't surprise some involved in the case against him.
Rapp, 44, of Beaver Township, has been in jail since July 27, when police said he violated terms of his probation by contacting one of the victims in his case.
Rapp was sentenced May 30 to five years of probation after pleading no contest in February to charges of marijuana trafficking, cocaine possession, corrupting another with drugs, possessing criminal tools, illegal use of a minor in nudity-oriented material and two counts of pandering sexually oriented material.
The former owner of the Canfield Dairy Queen also was ordered to have no contact with the victim in the case and to register as a Tier 1 sex offender.
Carl Frost, Beaver Township police chief, said finding out that Rapp had been arrested for violating probation came as no shock to him or other police officers involved in the case.
"I think he was engaging in illegal activity for a while before we arrested him [in 2009,] and continued after his arrest, but got a little less careful as time passed," Frost said.
Sam Amendolara, Rapp's attorney, didn't return calls to comment.
Judge Maureen A. Sweeney, of Mahoning County Common Pleas Court, found probable cause to have a probation-violation hearing. The hearing today will determine what punishment Rapp will receive.
The judge told Rapp during his sentencing hearing that if he violated her terms, he could face up to 81/2 years in prison.
To the mother of the victim Rapp is accused of seeing last month, prison is the only outcome that would make any sense.
"His [current] sentence just did not fit the crime, in my opinion," she said.
The woman, who asked not to be identified to protect her son's identity, said she fears that if Rapp is allowed back on the streets, her son never will fully recover from his drug addiction.
She said she also knows her son wasn't the first and worries he won't be the last boy affected by Rapp.
"[Rapp] is a complete facilitator and is a danger to the well-being and safety of my son and our family," she said. "Whether my son gets well or not, I don't want him to do this to another family."
Frost said the case involved several teen victims, but this victim was singled out during the lengthy court proceedings, which lasted nearly three years due to many preliminary hearings and the postponement of his sentencing three times.
"The defense has painted this as a case involving one victim, but what about all the children who are repeatedly victimized by their images being passed around on the Internet?" Frost said. "How about the stash of illegal narcotics found in Rapp's home; were those only intended for one victim?"
The victim's mother said her son, who was a teenager when he met Rapp while working at the Canfield Dairy Queen on North Broad Street, is now of legal age and is recovering from a heroin addiction at a rehabilitation facility.
"My son was definitely not an addict previous to meeting Trent Rapp, and that's why I use the word facilitator," she said. "This might be the first time he could truly get well and know that justice has been done."