Pre-game party to kick off Rayen Stadium rebirth
Rayen Stadium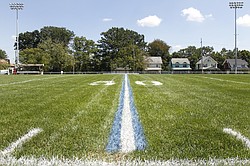 Gallery
By Denise Dick
Youngstown
The Judge William Rayen Stadium has been restored to its former grandeur, ready for the first varsity football game on that field since 1983.
The East High School football team faces Ursuline's Fighting Irish at 2 p.m. Saturday on the Jack Antonucci Field.
The day's festivities, dubbed "The Comeback is Complete," start at 10 a.m. with a tailgate party at Harding Park and an 11 a.m. ribbon-cutting. Passes for the tailgate party are $10 and available at the city schools' business office on West Wood Street. Speakers and band performances fill the morning's agenda.
Schools Superintendent Connie Hathorn, who played high school and college football, will throw the ceremonial first pass at Saturday's game.
Fundraising started last fall to repair and renovate the North Side stadium. Nearly $2 million of the $3 million goal has been raised, and efforts continue.
"I think it will be great for the kids," said Ed Matey, school district athletic director. "We have a home field. We can build a fan base. People can go to the games. I think it will be great for the entire Youngstown community. If you look around the area, you're not going to find a better facility than this."
When crews turned on the lights to ensure they were working, people driving up and down Ohio Avenue cheered, he said.
For the last several years, city football teams played many of their games on the road. The district rented Stambaugh Stadium at Youngstown State University, but scheduling became difficult.
Richard "Dickie" Atkinson, a school board member and graduate of the former Rayen School who played on its 1961 city championship team, said it's great to see the stadium where he used to play restored.
He thinks its renovation will be a catalyst for the surrounding neighborhood.
"This is one of the best things we could do for the district," said Lock P. Beachum Sr., school board president. "Hopefully, it will make an impression on young people. This puts us on par with other school districts. We have our own stadium."
MS Consultants of Youngstown was the project architect and Brock Builders of Boardman is the general contractor.
Matey said the idea for restoring the stadium came about three years ago from former schools Superintendent Wendy Webb.
Four East home games are scheduled this season, and the facility is available to other schools that want to rent it.
The stadium includes a press box, home and guest team locker rooms and a concession stand. Although early plans called for artificial turf, that proved too expensive, so games will be played on grass. Matey said the campaign committee still hopes to raise funds for the turf.