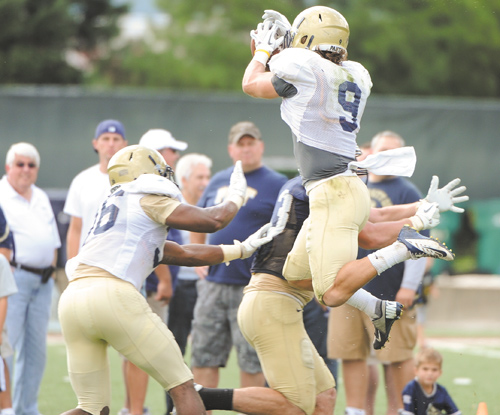 ---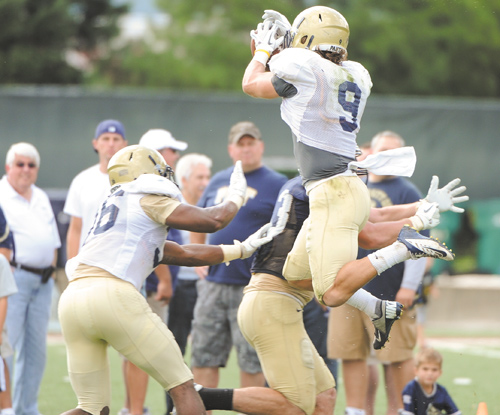 Photo
Pittsburgh safety Ray Vinopal leaps to catch a pass during practice. Vinopal, a Cardinal Mooney football standout, and his Panther teammates open their season Sept. 1 at home against the Penguins of Youngstown State University.
Mooney standout battles for starting safety spot
By Joe Scalzo
For any Youngstown State fans hoping Pittsburgh will overlook the Penguins in the season opener, Panthers safety Ray Vinopal has bad news for you.
"I keep telling my teammates, and they're well aware, Youngstown State is a good opponent," said Vinopal, a Cardinal Mooney High graduate. "They've got a lot of guys coming back and they've played a lot of good teams the past couple years, a lot of them closely.
"They're definitely not hurting for talent, they've got good coaches and I know, being from Youngstown, they're going to come out and play hard. It's going to be a challenge for us."
Vinopal played all 13 games (six starts) as a true freshman at Michigan two years ago, then decided to transfer after Rich Rodriguez was fired. His chose Pitt in part because his position coach at Michigan, Tony Gibson, was hired by Todd Graham, who left after one season for Arizona State.
Now, like Pitt, Vinopal is on his third coach in three years.
"It's been a very quick adjustment to this new coaching staff," Vinopal said. "Last year was the first time I had to sit out a season and it's a humbling experience, but I got to grow physically and gain more experience practicing against high-caliber guys."
Vinopal said playing early at Michigan gave him confidence — "That's very important in the secondary because we're the guys fixing everything and making all the checks because we can see the whole field," he said — but he said the year off helped him better adjust to the speed of the college game.
"As a freshman at U of M, I had to make the transition very quickly," said Vinopal, a two-way starter on Mooney's 2009 state championship team. "There's quite an increase in the speed and physicality during games and I was able to get used to how fast the receivers are and how big the linemen are down in the box. It gave me time to grow and gain experience and learn how to handle the step up in competition."
Vinopal is one of four Valley natives on Pitt's roster, a group that has a combined one game of experience for the Panthers. Redshirt senior DL Kris Wildman, a walk-on from Champion who transferred from Division II Harding (Ark.) University, played in last year's BBVA Compass Bowl, while Fitch's Chris and Demetrious Davis are incoming freshmen.
YSU, meanwhile, has two Mooney players on its roster: sophomore CB Donald D'Alesio (a classmate of Vinopal's) and freshman Austin Trgovich. Also, linebackers coach Ron Stoops Jr. was Vinopal's defensive coordinator in high school.
"I've got a lot of buddies on the team and this thing's for bragging rights," Vinopal said. "As a competitive person, it's pretty important to me."
Vinopal is battling for a starting spot at one of Pitt's deepest positions — senior Jarred Holley was all-conference last season while redshirt junior Jason Hendricks started the first seven games before suffering a shoulder injury — but at the very least he is expected to see significant playing time in the defensive back rotation.
"It's pretty exciting, especially as we get closer to the opener, because I'm realizing I'll be able to be out there," Vinopal said. "It's a blessing and I'm really looking forward to it."