Girl's mission: Help the homeless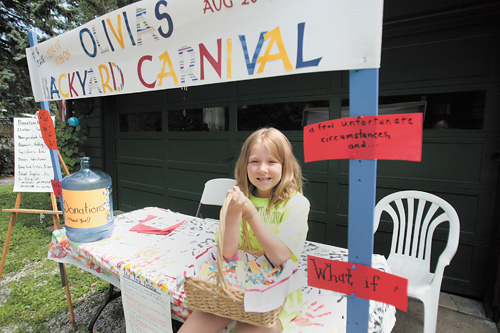 ---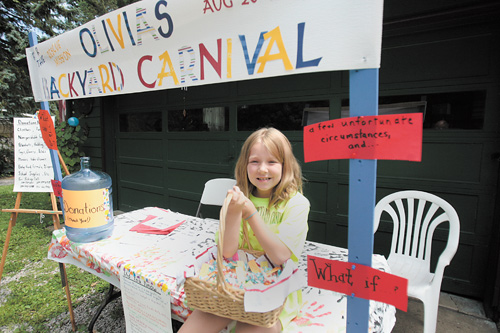 Photo
Olivia Helmick's smile, as she sits at the booth announcing Olivia's Backyard Carnival, seems to say "come on over" Sunday to her house at 8793 Woodland Road, just off Arrel Road and state Route 170 in Poland Township, and enjoy the fun and help homeless people at the same time.
POLAND
Tiny Olivia Helmick's caring heart is as big as her smile.
Olivia, 7, entering the second grade at Dobbins Elementary School, and her family are staging a backyard carnival to help homeless people at the Rescue Mission of Mahoning Valley.
The carnival is from 11 a.m. to 6 p.m. Sunday at her home at 8793 Woodland Road just off state Route 170 in Poland Township.
Olivia is getting help with the project from her grandmothers, Pam Coover and Colleen Helmick, and parents, Stephen and Crystal Helmick, but the idea was hers.
Olivia said she was very sad about people who are homeless, and her Grandmother Coover suggested visiting the Rescue Mission.
"One woman has four kids in one little tiny room," Olivia said after her tour of the mission with her family.
Olivia and family have a full day of activities planned at the carnival with all proceeds going to benefit Rescue Mission of Mahoning Valley's "Summer Relief 100k in 100 Days" campaign to aid the mission's general fund.
The Back Yard Carnival, to which the public is invited, includes games for children and adults, a Chinese auction, prizes, carnival foods such as cotton candy and flavored ice cones and hot dogs, clowns, a bouncing house, face painting and homemade jams for sale.
There is a kissing booth, but there are not real kisses, Olivia said laughing. "You have to guess how many candy kisses are in a jar."
"A policeman is going to bring his car, and I hope a fireman will bring a truck, too," she said.
Olivia is a typical 7-year-old in many ways.
She plays soccer for the Springfield 3S Express, for which her father is a coach, and the Poland Blue Angels, and she is a cheerleader. "We get to do real games," she said.
She likes to paint, and her favorite animal is a giraffe.
And like many children, there sometimes is sadness in her life.
"Lots of people have been dying ... my grandfather and great-grandma, and last year my dog, Abby, broke her leash and got hit by a car."
The Backyard Carnival is not the first time Olivia has raised money for a cause.
Olivia's tradition of helping people started two years ago when she got her first haircut at the Hair Galleria in New Middletown and donated her tresses to Akron Children's Hospital Mahoning Valley for kids bald because of cancer, said her mother, Crystal.
Also, during the past two years, Olivia helped to raise more than $1,635 for Akron Children's playground by selling lemonade and chips and receiving donations.
The first year, when she was 5, she raised the most money of any individual in the Prince and Princess of New Middletown event and was crowned Princess of New Middletown, riding in the lead car in Springfield's National Night Out Parade. The next year, Olivia helped raise $2,957 for Akron Children's but was not the top money-raiser.
Olivia aged-out of the New Middletown event this year, but asked, "Can we still raise money?" Her dad said "yes," and suggested a carnival, and she decided to help homeless people, her mother said.
Her goal for the backyard carnival is $1,000.
"Both of our moms took over helping Olivia get ready. It's going great, and we're getting a lot of donations. Now we just want the weather to cooperate and everybody to show up," Crystal said.
Not only are people invited to come and enjoy Olivia's carnival, they still can donate items for the auction or for the homeless residents at the Rescue Mission.
Clothing for children and adults, furniture, toiletries, blankets, sheets, toys and books and games for children or anything anyone can think of that a family can use, will be accepted up to and including the day of the carnival.
"We will have a truck here for donations that will go directly to the Rescue Mission," Grandmother Helmick said.
The thoughtful second-grader not only helps other people, she has inspired her family, too.
"She brought us back to church. She wanted to go to church 'really, really bad.' So now we get up on Sundays and go to New Life Church," Grandmother Helmick said.
"Giving comes naturally to her. Olivia is the most giving person I know."