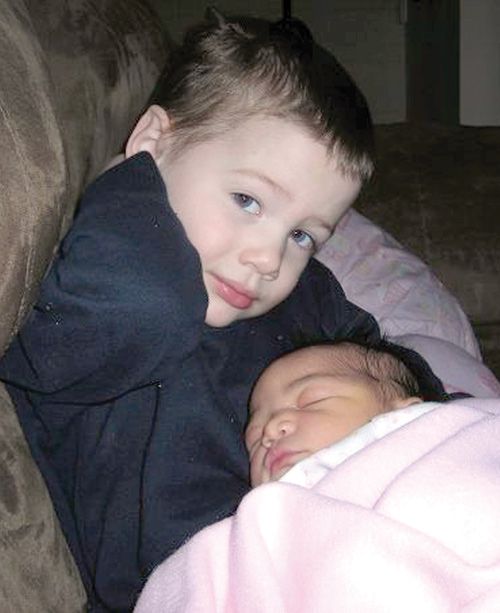 ---

Photo
A photo of Bryce and his sister that his mother, Jessica Linebaugh, posted on Facebook in May 2008.
By David Skolnick | skolnick@vindy.com
YOUNGSTOWN
After finding her 8-year -old son Bryce murdered in his bed by a bullet that struck him while he slept, Jessica Linebaugh said she'll never return to her Maplewood Court home.
Through tears, Linebaugh told The Vindicator, "I fear for my safety and the safety of my two other kids."
Police are calling Shawn Ramone Wilson, 21, of Youngstown, a person of interest in the murder. Officers picked him up about 4 p.m. Monday on an unrelated probation violation, and he is being held in the county jail.
Police say they are continuing the investigation and may charge Wilson as early as today with Bryce's murder.
Linebaugh, a Warren native, moved to 1404 Maplewood Court in Rockford Village on the city's East Side two years ago.
"People go through hard times, and I had to live there," she said of the lower-income housing complex.
About 1:15 a.m. Monday, Linebaugh said she and her boyfriend, Thomas Hight Jr., were in their living room on a couch talking to another couple when they heard about a half-dozen gunshots. (Police said the shooter fired as many as 12 rounds.)
The four dropped to the floor, and she then ran upstairs to check on her three children.
She went into the room her two sons share.
Jayvon Harris, 4, in the bottom portion of a bunk-bed, said he was shot.
It turns out, he was hit in the face with glass shattered by bullets, and was bleeding.
It was when Linebaugh looked in the top bunk at her son Bryce that she made a horrible discovery.
He was shot in the head and was dead.
The Mahoning County Coroner's office said he died "as a result of a devastating gunshot wound to the head."
"It was surreal," Linebaugh said.
"It was like I was in a movie, a horror movie."
In a frantic emergency 911 call, Linebaugh told a dispatcher, "My baby got shot in the head!"
Her 5-year-old daughter, Aniah Harris, sleeping in another room, was not injured.
Police don't believe the murder was retaliation for an Aug. 7 shooting of three men a short distance from Bryce's home or gang- related, said police Chief Rod Foley.
Also, Foley said police don't believe Bryce or his home were the intended targets of the shooter.
Though Rockford Village has seen its share of violence over the years, it's stepped up in the past few weeks — with this murder and the Aug. 7 shooting.
"It has been bad lately," Linebaugh said.
The Aug. 7 shooting was on the corner of Dogwood Lane and Maplewood Court.
The latter is a small, dead-end street where Linebaugh, her three children and Hight lived.
Constance Hicks, who has lived on Maplewood Court for seven years, said she heard the rapid gunfire early Monday.
"It was going off real fast; around here, it's not that uncommon," she said.
"The mother was screaming, 'He's still breathing. Somebody do something.' But there was nothing anyone could do."
The Aug. 7 shooting occurred right outside her house, and Monday's murder is across the street and a few doors down.
Hicks said she had to tell her 12-year-old son that his friend Bryce was dead.
"They're a very nice family," Hicks said. "They were always quiet. He was a good kid."
Ammon Williams, a neighborhood child, couldn't hold back the tears as he remembered his friend.
"We did a lot of things together," he said.
"He was a fun kid to play with. I understand what happened, but it doesn't make sense. It makes me feel scared."
Other kids in the neighborhood also said they're scared after Bryce's murder.
Linebaugh described her son as "a wonderful kid. He was a good boy. He was really funny and had a great sense of humor. He loved to dance. He started to play pee-wee football and was getting good at it. He didn't get to play his first game. He loved to go to church and loved his brother and sister."
Like his mother, Bryce was born in Warren, and the family attended services at the Leavittsburg Church of God.
He was going into the second grade at Harding Elementary School.
After hearing about the shooting, one parent took her three daughters out of day care at the Center for Community Empowerment, located at Rockford Village's activity center.
"I don't feel safe with them here right now," she said.
"I was shocked when I heard [about the murder]. I said, 'I have to go pick my kids up.'"
The Rev. Willie F. Peterson, the CCE's executive director and pastor at the nearby New Birth Kimmelbrook Baptist Church, said people need to do all they can to stop senseless violence such as Bryce's murder.
"We've had two shootings in the area, but Rockford's been a safe place," he said. "It's a shame we have to lose a child, specifically this way. He was a good kid. That was an intentional shooting. Someone wasn't shooting in the air driving. It's really bad to shoot and not know or care who you're shooting."
The pastor said the center offers programs for the very young to senior citizens as well as encourages those considering a life of crime to not head down that path and to provide opportunities to those who have committed crimes to turn their lives around.
The shooter used a semi-automatic assault rifle, possibly an AK-47, to fire six to 12 rounds into the boy's house and a next-door neighbor, Foley said.
"It's horrendous," he said. "It's just tragic. It's random violence."
The injury to the boy was horrific, Foley said.
"They are like military wounds," he said.
"The weapon is one used in the military. That's why the wound is so terrible."
When police were called, the boy's mother told them her son was upstairs and still breathing.
When officers arrived, the boy was dead, police said.
"It is truly a sad day when an innocent life is taken away in such a horrible fashion," said Mayor Charles Sammarone.
Councilwoman Annie Gillam, D-1st, whose ward includes Rockford Village, called the murder "devastating. I'm just stunned by it. It wasn't even the house the [shooter] was after. To kill a totally innocent child is horrible. There isn't a word for it."