Anderson: YSU is adjusting to 'the new normal'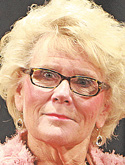 ---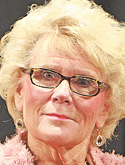 Photo
By Denise Dick
Youngstown
The last time President Cynthia E. Anderson delivered a State of the University address, Youngstown State University was poised for a semester of record enrollment.
Two years later, YSU is bracing for a second- consecutive year of declining enrollment and the drop in revenue that comes with it.
That couples with reductions in state funding.
"Today, with that state support significantly reduced, enrollment becomes vital to an institution's budget health," Anderson told the crowd Monday of student, faculty, staff and administrators in the Chestnut Room of Kilcawley Center. "And adding to that challenge is the fact that enrollment in higher education, as we all know, can be quite volatile, very cyclical and impacted mostly by factors outside the control of any particular university or college."
Universities are expected to generate more of their own resources and Anderson called that "the new normal."
There isn't a single reason enrollment drops or rises, she said, but since 2008, the number of graduating high-school students in YSU's primary recruitment area has decreased 10 percent. That trend is expected to continue for two or three more years.
"The local economy, especially for individuals without college degrees, appears to be improving," the YSU president said.
Some of that is attributable to the emerging shale industry.
"Many individuals are seeking training for jobs — as opposed to education — and I want to emphasize that Youngstown State University is in the business of education — not training, and unless someone directs me otherwise, we will not be changing from that mission," Anderson said, eliciting applause from the audience.
Many people are seeking training for jobs in the shale industry. "The result is a significant decline in adult learners seeking higher education at YSU and elsewhere," she said.
To combat the enrollment drop, YSU has expanded its marketing and advertising budget and implemented a program designed to identify and help students who are at risk academically, Anderson said.
YSU also must find ways to partner rather than compete with Eastern Gateway Community College and distinguish the mission of the two institutions, she said.
Classes started Monday at EGCC's Valley Center in the Plaza Building downtown.
"We are aware of the importance of enrollment, and we are taking steps to address that challenge," the YSU president said. "Bottom line, our enrollment will be down, and we will have a loss of revenue due to that enrollment drop."
She believes, however, that it's a temporary decline.
To deal with lower revenue, the university hasn't filled more than 100 jobs left vacant through retirements. Tuition was raised this year, and employee contracts include no pay increases this year. Anderson, in fact, did not give a university address in 2011 because of protracted labor talks.
"So budgetary challenges still remain, and we will likely have to take some very difficult steps to address our challenges," Anderson said.
Amid the challenges, though, YSU continues to move forward, she said.
Last week, a $70 million project was announced of a National Additive Manufacturing Innovation Institute which involves YSU and is expected to create and restore manufacturing jobs in the Mahoning Valley.
Last year, the university added five new degree programs, saw its Williamson College Business Administration named an Ohio Center of Excellence in Cultural and Societal Transformation, the Natural Gas and Water Resources Institute was established and the YSU Research Foundation was created.