Authority chief feels fine, expects Valley growth to soar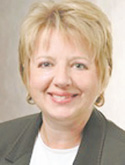 Photo
By Ed Runyan
VIENNA
Health problems caused Rose Ann DeLeon, Western Reserve Port Authority executive director, to miss work for three months earlier this year, but DeLeon says she doesn't believe they will stop her from continuing in her job.
"I'm feeling fine, and my health problems from the beginning of the year are fine and not stopping me from performing my job duties," DeLeon said last week.
In addition to promoting economic development, the port authority runs the Youngstown-Warren Regional Airport.
DeLeon is paid $155,000 annually out of the bed taxes levied by both Trumbull and Mahoning counties that help fund the port authority and airport. She was brought on board in late 2009 to give the authority an economic development leader with experience in port-authority financing.
Her current contract runs out at the beginning of December.
In her report to the port authority board last week, she listed the talks she has had in the past month with companies interested in having her help them expand or establish businesses in Mahoning and Trumbull counties.
Among them were a food-service company talking about expansion, a national logistics company wanting improvements in a short-rail line in Warren and an entertainment-related business interested in the area.
She also reported on several railroad-related developments that relate to the study she and her assistant, Sarah Lown, asked the port authority to fund in February.
The study results, released in June, identified a number of locations where improved rail connections could spur economic development, especially to serve shale-gas companies.
DeLeon said she and Lown have met with officials from the top four sites recommended in the study, and one is "very interested in moving forward" with the improvements by late this year or early next year with possible financing help from the port authority.
In another case, a firm is looking at a rail spur that would allow a distribution facility to develop, DeLeon said.
For the rail improvement recommended for the rail yard at CASTLO Industrial Park in Struthers to accommodate an increase in steel pipe business at Lally Pipe & Tube Corp., Lown has identified a grant that might help with the process, she said.
DeLeon said indicators are that companies are starting to look at expansion in the Mahoning Valley, some of it because of the oil and gas industry.
"We're seeing a definite uptick in inquiries from businesses," DeLeon said.
One challenge is that many of the inquiries are from manufacturing companies wanting a 20,000- to 60,000-square-foot building with up to 50-foot ceilings, and those types of facilities are not available here, DeLeon said.
What she can do, however, is point out locations where land with utilities are available and discuss with them debt-service options, incentives and having a building put up that they could occupy in about six months.
DeLeon said the focus of her work is on finding ways for companies to make use of available industrial space in the "core cities," because sites in Warren and at CASTLO, for instance, have cleaned land ready for re-use.
"As the gas and oil industry grows here, we'll see a revitalization of our existing industries, too," she added.