Ruschmans mark golden event at Drake's Landing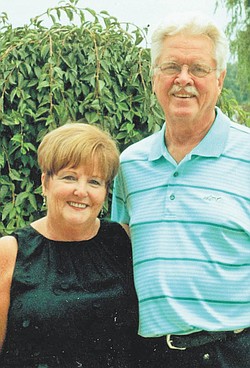 Photo
Mr. and Mrs. Jim Ruschman
MCDONALD
Jim and Robin Ruschman of McDonald celebrated their 50th wedding anniversary July 20 at Drake's Landing in Canfield.
The couple's children, Jim Ruschman Jr. (Lisa) of Mentor and Terri (Bert) Cregg of DeWitt, Mich., hosted the event.
They also have three grandchildren, A.J., Evan and Hannah, and one great-grandchild, Vinny.
In addition, the couple renewed their vows June 24 at St. Columba Cathedral in Youngstown and are planning a vacation to Litchfield by the Sea in South Carolina.
Mr. Ruschman married the former Robin Green on July 7, 1962, at Our Lady of Perpetual Help Church in McDonald.
Mrs. Ruschman worked as a hairdresser for Blackstone Funeral Home in McDonald and as a yoga instructor at Bodyworks in Austintown before retiring. She is a Literary Guild member.
Mr. Ruschman represented Otis Elevator Co. in Warren for 42 years before retiring. He is a member of Knights of Columbus and is a precinct committeeman for the Democratic Party of Warren.
The couple belong to Our Lady of Perpetual Help, and Mrs. Ruschman is a past parish council member.