Renewal of vows marks 50 years for the Pesces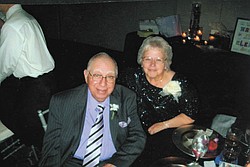 Photo
Mr. and Mrs. Edward Pesce
LIBERTY
Mr. and Mrs. Edward Pesce of Liberty celebrated their 50th wedding anniversary July 21 at St. Anthony of Padua Church in Youngstown, where they renewed their vows and a reception took place in their honor.
The couple also renewed their vows June 24 at St. Columba Cathedral in Youngstown.
In addition, they received an apostolic blessing from Pope Benedict XVI.
The couple's four children hosted both celebrations. They are Karen (Marc) Fritz of Sarasota, Fla.; and Donna (David) Moamis, Lynda (Dragan Milentijevic) McClary, and Tina (Tim) VanSuch, all of Liberty.
The couple also have 10 grandchildren and two great-grandchildren.
Mr. Pesce married the former Bonnie Huey on July 21, 1962, at St. Anthony's, where they are members.
Mrs. Pesce is a homemaker. Mr. Pesce retired in 2000 from YSD Industries in Austintown, where he was a storeroom coordinator. He served in the Army from 1956 to 1958 and was stationed in France.