O'Brocks mark 50th anniversary on Alaskan cruise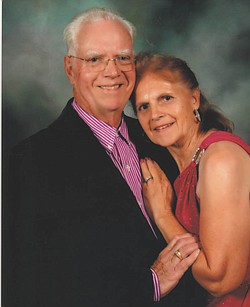 Photo
Mr. and Mrs. Kenneth O'Brock
NORTH BENTON
Kenneth C. and Sharen G. O'Brock of North Benton celebrated their 50th wedding anniversary with a recent Alaskan cruise.
Mr. O'Brock married the former Sharen Singleton on Aug. 3, 1962, in Monroe Falls, Ohio.
They are the parents of five children, the late Bill Singleton, Debbie Kachner (Mike) of Uniontown, Ohio; Glenn Singleton (Julie) of Damascus; Dedee Martin (Bill) of Shreveport, La.; and David O'Brock (Triin) of Estonia, Europe.
They also have seven grandchildren: Brittany and Drew Martin; Shannon and Gayla Singleton; Matthew Kachner; and Teele and Toomas O'Brock.
One great-grandchild, Braidyn, completes their family.
Mr. O'Brock retired from GenCorp in 1994 and has been selling windmills for more than 40 years. He and Mrs. O'Brock work together installing windmills in many states, including Hawaii, as well as St. Vincent Island in the Caribbean.
They keep busy on their farm in North Benton, where they raise goats and chickens.
The couple are members of Smith Grange and are involved in the Mahoning County Farm Bureau.
They attend Damascus Friends Church, and Mrs. O'Brock taught Sunday school at Atwater Baptist Church for more than 10 years. She has been a 4-H adviser for 42 years.