Foundation honors Liberty vet for ... Brightening the lives of heroes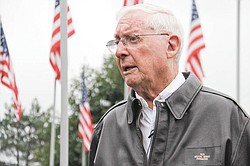 Photo
World War II veteran Irwin J. Stovroff, above, of Liberty, felt compelled to reach out to this generation of soldiers and created an organization called Vets Helping Heroes Inc., which trains assistance dogs for veterans and soldiers wounded in post-9/11 wars. Photo by: DUSTIN LIVESAY | THE VINDICATOR.
By Sean Barron
HERMITAGE, PA.
Many soldiers are returning home from the wars in Iraq and Afghanistan with a multitude of injuries as well as emotional trauma, blindness, post-traumatic stress disorder and sleep problems.
Some of these men and women, however, will undoubtedly see their lives brighten if they're fortunate to cross paths with Lt. Irwin J. Stovroff and an organization he created to better the lives of those who served their country.
The World War II veteran felt compelled to reach out to this generation of soldiers after learning the government had no programs to provide specially trained guide dogs for those who suffered serious injuries and emotional upheaval in the global war on terrorism.
So in 2006, Stovroff, of Liberty, created an organization called Vets Helping Heroes Inc., a Boca Raton, Fla.-based nonprofit organization that provides money for qualified facilities to train assistance dogs for veterans and active-duty military personnel seriously wounded in post-9/11 wars.
Stovroff, who lives in Florida during the winter, noted that his organization has raised nearly $3 million and provided about 70 dogs to such veterans nationwide.
For his work on behalf of veterans, Stovroff was honored during a recent ceremony at Hillcrest Memorial Park, 2619 E. State St. The event also marked his 90th birthday.
"I just can't get over this. It's almost overwhelming," he said of the recent ceremony in his honor.
Stovroff wished to thank Thomas M. Flynn, president of the War on Terror Foundation at the park, for honoring him and helping to build the memorial.
Also at the event were Pat Levenson and Kathy Genovese, Vets Helping Heroes board members; Stovroff's daughter, Suzy Strella, of Belleair Beach, Fla.; and Doris Tamarkin of Liberty, his companion.
Stovroff, a recipient of the Distinguished Flying Cross Award and the Purple Heart, knows a thing or two about the difficulties many soldiers face during and upon their return from combat. He enlisted in 1942 in the Air Corps after having undergone training in Texas and Arizona.
"I wanted to serve my country, and I knew I wanted to fly," he said.
On his 35th mission, his plane was shot down over Caen, France, near Normandy. Stovroff was captured on the German front lines after he and nine others bailed from the plane, then held as a prisoner of war for more than a year.
"I jumped out when I was 21. I didn't think I'd see my 22nd birthday."
Somehow, Stovroff had the presence of mind to throw away dog tags he carried. Many soldiers carried such tags that listed their religion; Stovroff was Jewish.
After having served nearly four years in the military, he worked for many years in the furniture business before retiring at age 75. Traditional retirement didn't set well with Stovroff, however, so he took a course to become a national service officer for former POWs before starting Vets Helping Heroes.
"I counseled them and gave them advice and wrote pension claims," he recalled. "Ninety-nine percent of pensions were compensated, and I ensured that widows were taken care of."
He also wanted to be sure those who served in wars after the Sept. 11, 2001, terrorist attacks were taken care of in other ways. To that end, Vets Helping Heroes was designed with the main goal of providing such soldiers with trained dogs that offer emotional support and companionship.
It takes about two years and between $10,000 and $60,000 per dog to get them fully trained. About four in 10 animals complete the process and are passed to veterans, Stovroff noted.
For more information about the organization, go to www.vetshelping-heroes.org.