Children host Roaring '20s party for couple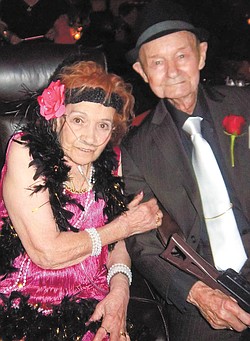 Photo
Mr. and Mrs. Gerald Fleming
WARREN
A Roaring '20s-themed party honoring Gerald and Elsie (Sue) Fleming of Warren for their 70th anniversary took place Aug. 4 at Ciminero's Banquet Centre in Niles.
The couple's children and their spouses hosting the celebration were Dianna (Bruce) Brosi, Chadds Ford, Pa.; Dennis (Ann) Fleming of Monaca, Pa.; Sandra (Les) Yocum of Howland Township; and Robin (Joe) Martorana of Bristolville.
Four grandchildren and five great-grandchildren round out the family.
Our Lady of Mount Carmel Church, Youngstown, was the setting when the former Elsie Giura and Mr. Fleming were married Aug. 8, 1942.
The couple are members of Blessed John Paul II Church in Warren.
Mrs. Fleming was a member of VFW Post 1090 Women's Auxiliary and the Italian-American Festival committee.
Mr. Fleming retired in 1998 as a test and safety engineer with Taylor-Winfield of Warren. He is a Fourth Degree Knight of the Sabin Council of Knights of Columbus Council 4484. He served in the U.S. Navy from 1942 to 1945.