Ryan chats and chews in Warren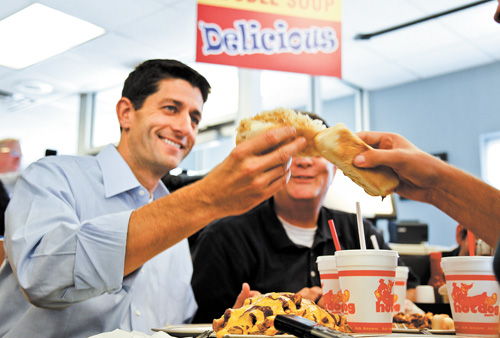 ---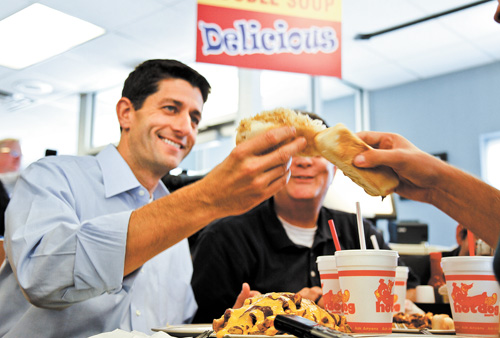 Photo
Paul Ryan, the Republican vice presidential candidate, hoists a hot dog at a Warren restaurant. Ryan spent about 30 minutes at the Hot Dog Shoppe on Thursday.
WARREN
In between bites of two hot dogs with the works, Paul Ryan, the Republican vice presidential candidate, defended his budget plan that includes a $716 billion cut to Medicare.
He also talked about benefits lost by Delphi salaried retirees.
Ryan ate at the Hot Dog Shoppe, a well-known restaurant on West Market Street in Warren, on Thursday after a rally at Walsh University in North Canton.
Ryan, chairman of the U.S. House Budget Committee, said the Medicare cut is included in his budget because President Barack Obama, a Democrat, already "put those cuts in."
Ryan also said Republicans "would never have done it in the first place," if it weren't for the president's decision to include the cut in the health care bill, commonly known as "Obamacare."
"We voted to repeal Obamacare repeatedly, including those cuts," he said in response to a question by Chris Moody of Yahoo! News, invited by Ryan to join him for lunch.
Ryan, a seven-term congressman, asked Moody to eat with him and ask a question because Thursday was the reporter's birthday.
In response to Ryan's comments, Jessica Kershaw, an Obama campaign spokesman, told The Vindicator: "He hit President Obama for $700 billion in savings in Medicare but that was in his own bill. He is just trying to hide the fact that he and [Republican presidential candidate Mitt] Romney want to turn Medicare into a voucher system."
Also at Ryan's table at the Hot Dog Shoppe were former Trumbull County Republican Chairman Craig Bonar, a Romney presidential delegate, and ex-state Rep. Randy Law, who is running for an Ohio House seat in the fall election.
Law called Moody's question "tough," but said Ryan did a good job answering it.
Among the other topics discussed during lunch, Bonar and Law said, was the loss of health and life insurance and pension cuts of 30 percent to 70 percent for Delphi salaried retirees.
There are about 20,000 Delphi salaried retirees, including 1,500 in the Mahon- ing Valley.
"He's supportive of them and said [Republicans have] tried to help them by intervening with the Treasury" Department, Law said.
Bonar, a former Delphi employee, said Ryan told him and Law that the retirees "were not treated fairly" by having some benefits eliminated and others cut.
Law, who owns stock in the Green Bay Packers, talked with Ryan, who's from Wisconsin, about the football team.
Both Law and Bonar said they were impressed with Ryan.
"He's very personable," Bonar said
Ryan walked into the Hot Dog Shoppe around 12:10 p.m., and said, "Hi, I'm Paul." He spent about 30 minutes at the restaurant.
Ryan, who is known for being fit and watching what he eats, spent a few minutes looking at the restaurant's menu.
Ryan chose his lunch after asking Tim McAdams, the restaurant's manager, about the best food on the menu.
He ordered two hot dogs with mustard, sauerkraut and onions, eating nearly all of them. He barely touched a large plate of chili-cheese fries, but drank down his iced tea with a packet of Sweet'n Low.
He also ordered a chili hot dog and a cola for Moody, who seemed somewhat flustered when Ryan asked what he wanted.
After the event, Moody said the hot dog was good, even though he only had two or three bites.
The tab, picked up by Ryan, was $8.78.
After placing the order and waiting for the food to be prepared, Ryan worked the room, shaking hands and posing for pictures.
Caleb Roth, a 17-year-old from Leavittsburg and a Hot Dog Shoppe regular, said he was surprised to see Ryan at the restaurant.
Roth had his picture taken with Ryan and came away impressed by their casual conversation.
"It was a breath-taking experience to have someone of that caliber come here," he said. "I was extremely honored to meet him."
There were about 15 known Republicans, invited by the Romney campaign, at the Hot Dog Shoppe.
The restaurant was somewhat chaotic as reporters, Secret Service agents and Republican handlers packed the place, causing some curious looks from regular customers.
McAdams said Romney campaign workers had contacted him Wednesday about Ryan coming to the Hot Dog Shoppe. But later in the day, he was told the event "fell through. They said they might stop for lunch, but it was" uncertain.
McAdams first learned for certain that Ryan was coming when told by a Vindicator reporter.
"It was definitely a moment to remember," he said. "It's not often we get vice-presidential nominees in the area."