VP pick Ryan to visit Warren today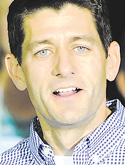 ---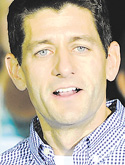 Photo
By David Skolnick
skolnick@vindy.com
WARREN
U.S. Rep. Paul Ryan, the newly selected vice-presidential running mate of Republican Mitt Romney, will be in Warren today.
Ryan, a seven-term congressman from Wisconsin, will make a brief stop today at an undisclosed location in Trumbull County's most-populated city to talk to voters, according to Romney's campaign.
The visit to Warren will come after Ryan's rally at Walsh University in North Canton. That event is supposed to start about 10 a.m.
Romney announced Saturday that he selected Ryan, chairman of the House Budget Committee, to be his vice-presidential running mate.
Ryan is expected to spend a lot of time campaigning in Ohio, one of the key battleground states in the presidential race.
Ryan made his first visit to Ohio as Romney's running mate Wednesday. Ryan spoke at a rally at his alma mater, Miami University in Oxford.
Romney, as well as President Barack Obama and Vice President Joe Biden, the Democratic ticket seeking re-election, have made several campaign visits to Ohio.
They've all campaigned one time each in the Mahoning Valley this year, though Romney's visit was the day before the state's March 5 primary, which he narrowly won. Romney fended off a challenge in the primary from former U.S. Sen. Rick Santorum, who's since dropped out of the race and is supporting Romney.