Nurses picket at Northside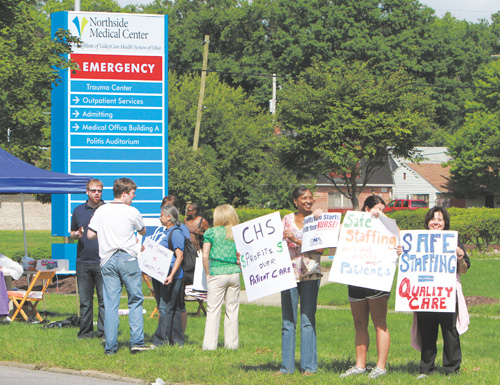 Photo
The contract for nurses at ValleyCare Northside Medical Center on Gypsy Lane in Youngstown expired July 19. The nurses, members of Youngstown General Duty Nurses Association, conducted informational picketing Wednesday. They are not on strike. They claim ValleyCare Health Systems of Ohio hasn't been negotiating in good faith. They are seeking a pay increase and better staffing.
YOUNGSTOWN
Contract negotiations between ValleyCare Northside Medical Center and its registered nurses were to resume today, but scheduled talks for Friday were canceled by ValleyCare Health System of Ohio when nurses started informational picketing.
The nurses, members of the Youngstown General Duty Nurses Association, were not scheduled to picket today, said Eric Williams, union president.
The union also distributed informational pamphlets in the community in an effort to make its case with the public and persuade ValleyCare to negotiate in good faith.
The YGDNA membership previously authorized its union's negotiating team to give a 10-day strike notice to ValleyCare, Northside's owner. That notice has not been given, Williams said.
Staffing levels and wages are the primary issues along with ValleyCare's unwillingness to negotiate, Williams added.
Nurses are seeking to put more in their paychecks, and ValleyCare wants to reduce those paychecks despite its parent company, Community Health Systems, based in Tennessee, being very profitable and nurses not receiving a pay raise in six years, Williams said.
The YGDNA represents about 400 registered nurses at Northside, on Gypsy Lane. Their contract expired July 19.