Youngstown police probe complaint of officer retaliation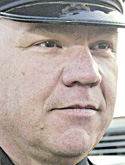 Photo
YOUNGSTOWN
The internal affairs division of the Youngstown Police Department is investigating a complaint of retaliation committed by a ranking officer.
Lt. Brian Butler, internal affairs investigator, confirmed the ongoing investigation into the conduct of Lt. William Ross during the Greater Youngstown Italian Fest downtown earlier this month. He said the complaint was filed last week.
"The chief [Rod Foley] received the initial complaint and handed it over to internal affairs. We are still early in the investigation, but the complaint was for conduct unbecoming [a police officer]," said Butler.
The complaint against Ross alleges the officer wanted an unidentified person admitted to the festival without paying the cover charge Aug. 3. The festival employee working at the gate denied the request, angering Ross.
The complaint alleges that Ross, in retaliation, issued a summons to the festival employee later that same night. A co-worker of the festival employee brought the matter to police.
Butler did confirm the festival employee was issued a citation by Ross for failure to use a turn signal, but he said internal affairs has not spoken to the alleged victim or Ross about the incident.
Foley said it is unfair to speculate on potential penalties for the purported infraction until the matter has been investigated thoroughly.
He said the department has contacted the law director about the complaint, but it is awaiting the conclusion of the investigation.
"It is certainly concerning what the allegations are in this situation, but it is unfair to go in any direction until the investigation is complete," the chief said. "We have a long way to go in this investigation."
Butler said the department will have more answers once the investigation is completed in about three to four weeks.
"We will, as always, conduct a thorough investigation into the matter. We are aiming for 30 days, but hope to have the investigation done sooner," he said.