910th drops in on Ravenna
VIENNA
Propelled by a drag
parachute, the simulated cargo whooshed out of the open rear hatch of a C-130 Hercules aircraft in literally the blink of an eye when the navigator gave the "green light" for the drop.
910th Youngstown Air Reserve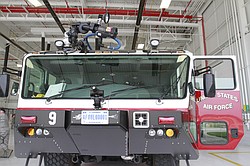 Gallery
Regular chutes then opened to float the pallet-sized cargo to a target on the ground at the Camp Ravenna Joint Military Training Center, an Ohio Army National Guard military base between Ravenna and Newton Falls.
The goal of the 910th Airlift Wing training exercise Tuesday, attended by local media, was to visually air-drop simulated equipment within 40 feet of the target while flying 150 mph at just more than 500 feet of altitude.
In a second drop, made without landing, a larger simulated cargo was moved out of the C-130 via gravity, achieved when the pilot raised the nose of the plane causing the cargo to roll out without the aid of a parachute. Parachutes opened once it was out to take it to the ground.
Key to the process are the C-130 loadmasters , who faced added pressure to get things right because they were undergoing annual evaluations.
Air Force Reserve Senior Master Sgt. Bob Zanni, librarian and former special-education teacher for the Struthers School District, was the "evaluation loadmaster" for the flight.
Loadmasters such as Zanni, and Senior Airmen Marcus Watson of Diamond and James Hudson of Youngstown, who manned Tuesday's flight,
are in charge of properly balancing the weight of the cargo on the plane and loading and unloading equipment and personnel.
In combat situations, they determine the load order so that more tactically important material, such as ammunition, is off-loaded first. The C-130 Hercules can airdrop up to 42,000 pounds at once, something as large as a road grader.
Watson said the first run flew over his home, and that his father, Senior Master Sgt. Bryan Watson, head loadmaster evaluator for the 910th, was on the ground to retrieve the cargo. The C-130 crew were to learn at a debriefing later whether their drops were on target.
The media/training flight day began with a briefing by Col. Reinhard L. Schmidt, commander of the 910th and the Youngstown Air Reserve Station, which houses the 910th and Naval and Marine Corps reserve units.
Schmidt said low-level, air-drop training is done frequently to maintain efficiency.
The mission of the 910th is built around airlifting and dropping equipment and personnel, aerial spray capability and providing training for air reservists.
The commander said though the 910th had 15 C-130s in 2003 and has been reduced to eight, the 910th remains a "premium base for the Air Force Reserve Command" and it is not closing.
Schmidt praised YARS planners for doing "a great job for the future." He said the focus now is on what the base will look like in 2030 and enhancing capacity to bring more missions here should there be future realignment.