Sound off on Mahoning court consolidation Aug. 23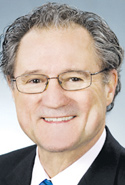 Photo
YOUNGSTOWN
State Rep. Robert F. Hagan will have an Aug. 23 public meeting to consider consolidating the lower-court system in Mahoning County over a six- to 10-year period.
Elimination of a Youngs- town Municipal Court judge later this year is the likely first step, said Hagan, of Youngstown, D-60th.
"I'm totally open to suggestions, but I envision starting with" eliminating the Youngstown judicial seat that has been vacant since the July 31 retirement of Robert A. Douglas Jr., Hagan said.
Hagan opted last week to postpone introducing a bill to eliminate Douglas' seat at the request of a majority of city council members and several former council members. He agreed to a public meeting before submitting the proposal for a vote by the state Legislature.
That meeting will be 5 p.m. Aug. 23 in Tod Hall's Trustees' Meeting Room at Youngstown State University.
The lower-court system includes three full-time Youngstown Municipal Court seats [including the vacant position] as well as part-time municipal court judges in Struthers and Campbell, four part-time county court judges, and four mayor's courts.
Hagan wants to see that reduced to six or seven full-time judges with candidates running countywide. It would take six to 10 years to create, Hagan said, because he wants to eliminate seats when judges retire.
Court consolidation in Mahoning County is of interest to Ohio Supreme Court Chief Justice Maureen O'Connor, who not only supports the effort, but also asked Gov. John Kasich, a fellow Republican, on July 18 not to appoint a replacement for Douglas. The request was honored with the governor's office expecting Hagan to sponsor legislation to eliminate the post.
Hagan said Jo Ellen Cline, the Supreme Court's government relations counsel, called him Tuesday on behalf of the chief justice encouraging him to first eliminate the Youngstown seat and then look at consolidation of the rest of the county's lower-court seats. A majority of Youngstown council sent the chief justice a letter asking that a complete consolidation plan be developed before getting rid of a Youngstown court judge.