Shale booms, sales zoom, especially in Columbiana County
---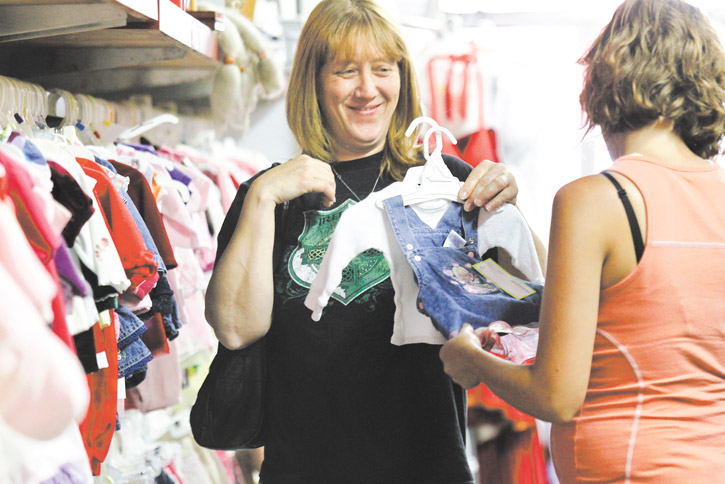 Photo
(L-R) Christine Jugenheimer and Heather Jugenheimer of Salem, Ohio shop at Kidzone, also in Salem, Ohio, for newborn dresses on August 14, 2012.
By JAMISON COCKLIN
jcocklin@vindy.com
YOUNGSTOWN
Strong revenue from sales-tax collections in the Mahoning Valley between March and May suggest strong retail sales and improving consumer confidence, officials say.

The tax, administered by both the Ohio Department of Taxation and each of Ohio's 88 counties, is a partial benchmark of economic activity in a region.

Both Mahoning and Trumbull counties generally posted modest year-over-year gains in March, April and May, the latest months for which data is available,
But in Columbiana County, where a flurry of shale activity is occurring, sales-tax revenues increased by more than 10 percent in each of the months, as reported by the state.
"By comparing these figures on a year-to-year basis, you arrive at some sort of gauge on how a particular county is doing," said Gary Gudmundson, a spokesman for the ODT. "Do they tell the whole story — no. There's a lot of unseen activity, not subject to sales tax, that's occurring."

Compared with 2011, Columbiana County collected 11 percent more sales tax in March, 15 percent more in April and 16 percent more in May this year. The county collected $1,162,689 this May versus $1,000,793 in May 2011.

In Mahoning County, sales-tax revenue increased 5.6 percent in March and 4.5 percent in April. In May, Mahoning County recorded a 6.2 percent increase, by collecting $2,338,016 versus $2,199,693 a year earlier.
Trumbull County was the only county to see a year-over-year decrease of 2 percent in April. But a month earlier, it saw a significant increase of 10.9 percent, while in May it recorded a 6.3 percent increase, going from $1,683,341 in 2011 to $1,790,219 this year.
Terry McCoy, chairman of the business development committee at the Columbiana Area Chamber of Commerce, said he wasn't surprised to learn of the gains.
"There's a lot of activity with shale and oil here," he said. "Because of it, these farmers are taking their signing bonuses and investing in big-ticket items like cars, tractors and barn buildings. We haven't seen any royalties yet, but I believe it will continue this way — this is just the beginning."
In fact, sales-tax revenue is up across the state, said Dave Pagnard, spokesman for the Ohio Office of Budget and Management. His office is forecasting a balanced budget for fiscal year 2013 as a result of stronger revenue projections, with the possibility of a surplus.
Statewide, the combined nonautomobile sales tax and the automobile sales tax increased by 9.4 percent in July, compared to 2011, according to the Ohio Office of Budget and Management's August Financial Report.
George Zeller, a Cleveland-based economist, said the positive trend is difficult to explain.
"It's curious that retail sales are increasing faster than employment, and paychecks are currently decreasing," he said. "We might attribute this to improving consumer confidence."
Zeller added that the precision with which sales-tax figures are recorded could indicate consumers' pent-up demand.
Although Ohio has created 111,300 jobs since January 2011, Zeller said the growth rate is too slow . Furthermore, Columbiana County has the highest unemployment rate in the Mahoning Valley at 8.2 percent, well above the state average of 7.2 percent.
But McCoy said a host of out-of-state workers are spending in his area.
"There's a lot of opportunity here right now," McCoy said. "This is that first influx of financing from the lease bonuses that started coming about a year ago."
More like this from vindy.com