Idaho family searching for bulldog stolen at Liberty restaurant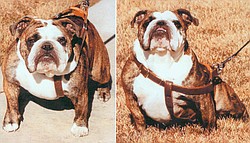 Photo
Mabel, the stolen English bulldog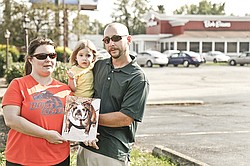 The Vindicator ( Youngstown)

Photo
Brook, Marley, 2, and Paul Jillings of Boise, Idaho, hold a photo of their stolen English bulldog, Mabel, who was stolen from the travelers' van at Bob Evans on Belmont Avenue in Liberty.
LIBERTY
An Idaho family is desperate to find their stolen English Bulldog and say they won't leave the Mahoning Valley until she's back in their arms.
Brook Jillings said she, her husband Paul and their 2-year-old daughter Marley arrived at Bob Evans in Liberty around 4 p.m. Tuesday for dinner as they traveled from Pennsylvania to Washington.
Jillings said because it was cool outside they decided to leave their 3-year-old bulldog Mabel napping in their van with the windows cracked. About 15 minutes later it began to rain, so Jillings said she went back outside to check on Mabel and roll up the windows.
"When I went out the first time everything was fine," she said. "When we were finished eating and went back to the van we realized it had been broken into."
Jillings said Mabel was gone, along with a laptop, camera and personal documents and identification.
Mabel is microchipped and is white-and-brindle-colored with darker markings around her eyes. Jillings said she recently had an allergic reaction and had some hives on her body, as well as a sore behind her left ear. She said the family is especially desperate to get Mabel back so they can have her ailments treated by a veterinarian.
Don Young, a manager at Bob Evans, said he's doing everything he can to help the family by hanging fliers at the business and spreading the word to other nearby businesses about the missing dog.
Anyone with information is asked to call Liberty Police Department at 330-759-1511 or Paul and Brook Jillings at 208-407-4479.
For the complete story and photo, read Thursday's Vindicator or Vindy.com.