Anti-fracking viewers in Youngstown say lies fill 'Truthland'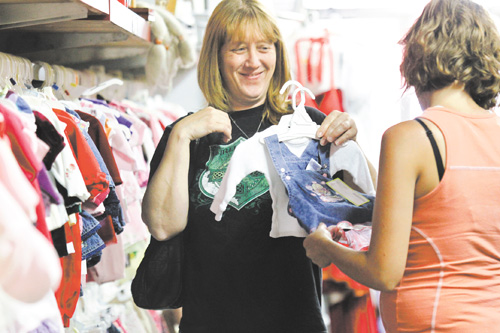 ---
YOUNGSTOWN
A mostly anti-fracking audience attended the first showing of "Truthland" in Youngstown on Tuesday at the Youngstown Historical Center of Industry and Labor.
They laughed openly during the documentary and waved red flags when they believed panel members after the movie were lying. Later, they complained about the controlled nature of the event.
"Truthland" is a film made by Shelly DePue, a Pennsylvania farmer whose land was leased and fracked. Production of the film was paid for by Energy in Depth and the Independent Petroleum Association of America. The film attempts to refute the ideas presented in the film "Gasland," which explores whether fracking is safe.
Fracking is a process in which sand, water and chemicals are pumped into shale at a high pressure to release the gas trapped within the rock thousands of feet underground.
Josh Fox produced "Gasland" after he was asked to lease his land for drilling.
DePue was part of Tuesday's panel and answered a question about a well on her property that caused the Pennsylvania Department of Environmental Protection to investigate.
There was never any violation against the drilling company, DePue said.
"The company called the DEP when they found bubbling coming up from one of the wells," she said. "The DEP said to drill an observation well next to the original well."
The bubbling was caused by naturally occurring methane that exists, and has for centuries, all over Susquehanna County, Pa., DePue said. The drilling had never gotten deep enough to be at the Marcellus Shale when the bubbling was found.
Penny Seipel, vice president of community affairs for the Ohio Oil and Gas Association, said more water from fracking is being recycled and reused, and chemicals are used in small amounts, but look like large amounts due to the size of the operation.
"I object to the idea that most of the chemicals used in fracking are something that most of us have in our homes, said Judy Vershum, one of those in the audience against fracking. It was just an example of the untruths that are shown in this film, she said.
Susie Biersdorfer, an activist for Frack Free Mahoning Valley, said the organization is calling for a televised open forum on fracking where both sides can speak and have a chance to answer questions.
"This was certainly not an open forum," she said.

The "Truthland" panelists, however, did answer at least 22 questions from the mostly anti-fracking audience.
This is a economic opportunity for this community, said Tony Paglia, vice president of government and media affairs and a member of the panel.
"With any type of development there are risks. We feel that we can manage those risks," he said.
The chamber estimates oil and gas development has brought between 1,500 and 2,000 direct or indirect jobs to the area and $1 billion in investment.