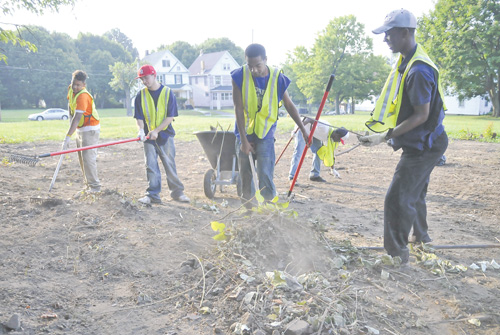 Photo
Volunteers, from left, Jerry Mims, Damon Dumns, Derek Etto and Ricky Williams, all of Youngstown, and Devin Harden of Coitsville clear out a lot on Truesdale Avenue to prepare it to be a park.
By Sean Barron
YOUNGSTOWN
Most people familiar with a section of an East Side street likely are struck as much by what's not there as by what is.
A sampling of the past: Overgrown lots that acted as dumping grounds for litter, high grass and trash-strewn lawns that contributed to blight, a pothole-laden thoroughfare and a lot of apathy.
A current sampling: land cleared for a park, several eyesores removed and replaced with vegetable gardens, and a street that was paved last month for the first time in decades.
Yes, a few empty homes with broken windows still dot the neighborhood, but even they at least look cared for largely because someone takes the initiative to mow the lawns.
In truth, South Truesdale Avenue between Shehy and Rigby streets is in transition, a microcosm of what can result when grass-roots efforts to transform neighborhoods gain determination, desire and momentum.
A major force in improving life on this block is a 13-year-old organization called Give the Children a Chance Inc.
Many homeowners and renters have seen young people with the organization work tirelessly each day to better the neighborhood — something that has kept the youngsters out of trouble and has created an incentive for residents to keep up their properties, organization officials say.
"We are determined to show people how to live if given a chance," said Kathryn Hawks Haney, a former Youngstown school board member and Give the Children a Chance's founder. "We have a neighborhood now; it's not just a street."
Across the street from the group's headquarters at 133 S. Truesdale is roughly 1.5 acres that five high-school students hired by Haney recently cleared of weeds and brush.
They are preparing the property for a park and pavilion to be used for family reunions, high-school graduations and other special events.
"It makes me feel great because a lot of hard work has been done," Devin Harden of Coitsville, one of the five students, said during a work break. "We've inspired a lot of people to take care of their lawns when we started."
Devin, an Ursuline High School freshman who hopes to enlist in the Army, started working for the organization in June and has spent time mowing vacant lots, distributing food and working in a community garden, he noted. He added that Haney asked him during a church service to work for her organization.
Also happy to roll up his sleeves and get a little dirty was Jerry Mims, a Youngstown Early College 10th-grader whose duties were similar to those of Harden's.
"It's good. We need more stuff like this," Jerry said.
The others who assisted with the cleanup were Damon Dumas, Derek Etto and Ricky Williams, all of Youngstown.
One resident happy to see the changes in his neighborhood is Jose Morales, who's lived at 149 S. Truesdale four years.
"They clean everything," including maintaining the vacant residence next door to him, Morales said while scanning the neighborhood from his front porch. "I have no problem with anyone; I have nice neighbors."
Also happy with what he's seeing is Paul Jones, one of seven Give the Children a Chance board members who was tending a vegetable and flower garden on Haney's property that was yielding healthy, robust cucumbers, beans, lettuce and tomatoes, among other things.
"I hope this catches on," Jones said. "I would hope others would ride down [Truesdale] and say, 'Why aren't our neighborhoods like this? What can we do?'"
Earlier this year, Haney applied for assistance to acquire properties for the group's efforts, noted Debora Flora, executive director of the Mahoning County Land Bank, an entity that partners with cities, villages and townships to return to productive use vacant, tax-delinquent parcels.
The land bank tries to ensure that responsible people receive titles to such properties without having to take on outstanding debt the former owners had incurred, Flora explained.
For Haney, the process could take several more months to complete, but the agency is more than happy to work with her because of her track record and goals, Flora said.
"We found that she has a good, valuable purpose for some land in that neighborhood and we wanted to help her," Flora continued. "Why wouldn't we want to work with someone trying to improve their portion of Youngstown?"
Give the Children a Chance needs a pickup truck, a riding mower, weed trimmers and lawn and garden equipment, Haney said. For information or to donate items, call her at 330-740-0250.