Browns battered after victory over Lions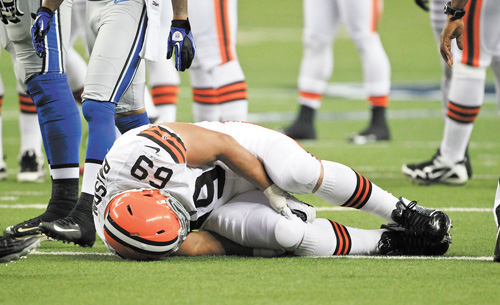 ---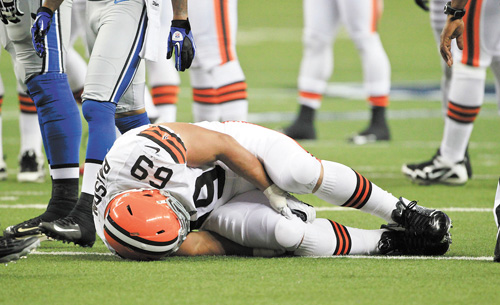 Photo
Cleveland Browns nose tackle Scott Paxson (69) holds his knee after a play during the first half of a preseason game against the Lions in Detroit.
Associated Press
BEREA
The Cleveland Browns' preseason-opening win in Detroit came at a significant cost.
Wide receivers Mohamed Massaquoi and Travis Benjamin, linebacker Scott Fujita, cornerback Dimitri Patterson, tight end Jordan Cameron and defensive tackle Scott Paxson did not practice Sunday as the Browns (No. 30 in the AP Pro32) resumed their training camp schedule.
All six were injured Friday during Cleveland's 19-17 victory, and all are either starters or second-teamers on the depth chart.
"It's hard to tell when they'll be back," coach Pat Shurmur said, declining to offer specifics. "They were nicked up in the game, so we'll see when they can come back."
Fourth-year starter Massaquoi (concussion), Patterson (right ankle), Cameron (back), and Paxson (right knee) each required help from Cleveland's training staff after on-field collisions.
Shurmur would not reveal the injuries that Benjamin and Fujita suffered.
Though Patterson and Paxson appeared to be in tremendous pain when they were hurt, Massaquoi's status is the most troubling. The 6-foot-2, 207-pounder was hit by Detroit safety Erik Coleman after making a 12-yard reception on the Browns' initial offensive snap and did not return.
This is Massaquoi's third documented concussion since Oct. 17, 2010, when he absorbed a brutal helmet-to-helmet blow by Steelers linebacker James Harrison. His second occurred on a high hit by Seahawks cornerback Brandon Browner on Oct. 23, 2011.
Over the last two seasons, Massaquoi has made 67 receptions for 867 yards and four touchdowns in 29 games. The three games he missed were because of post-concussion symptoms.
"With Mo down, it's really going to hurt," said wide receiver Josh Gordon, a second-round supplemental draft pick. "If it's me or whoever, we have to be sure to do our jobs until he comes back. It's up to us to step up for him."
Massaquoi, in the final season of his four-year rookie contract, added more drama to the situation by going on Twitter to dispute the Browns' announcement he had a concussion. Per team policy, injured players are not made available to the media until they are medically cleared.
Shurmur reacted angrily when asked about Massaquoi's tweet following practice.
"I told you what happened, and that's what happened," the second-year coach said. "He has a concussion, and we're treating it as so."