Youngstown pet owners say law is Pit BULL
SEE ALSO: Hubbard facility tries to find new home for 'awesome dog'
By RALPH A. LEWIS III | NewsOutlet.org
Pitbulls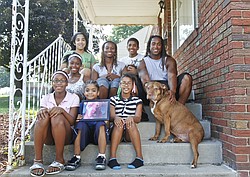 Gallery
Say "pit bull" and expect a reaction.
Just don't expect it to be mild.
"They think of a vicious, evil dog that will attack," said Corey Brown, a pit-bull owner who lives on Youngstown's South Side.
Brown admits he used to have the same opinion until about nine years ago when a relative who was traveling asked him to watch a pit pup.
"I had to do my homework, but they are very excellent dogs. I'd say the No. 2 watchdog behind German shepherd. They are very protective of the children and the family," said Brown, whose two daughters were ages 4 and 7 at the time.
He ended up keeping the pit bull, whom he named Chuck, and Chuck was soon joined by Chuckita, a female pit bull who is now 7.
Youngstown did not have a strict pit-bull law until 2007, well after Brown owned his dogs, but the state had long branded pit bulls as "vicious" and had required owners of "vicious dogs" to have $100,000 of liability insurance.
That was until this year, when Gov. John Kasich signed off on ending the 25-year-old law. Elsewhere in the state, dog owners have to get insurance only if convicted of three or more violations involving a dog, and then only if the court orders the owner to do so.
Yet, Youngstown still bans ownership of pit bulls.
The only exclusions are for those, such as Brown, who owned pit bulls before the city law was enacted in 2007. Those people can keep their pets in the city limits only if they carry $100,000 in liability insurance and their dogs on leashes four feet or shorter.
Those who violate the city law face first-degree misdemeanor charges with a maximum penalty of six months in jail and a $1,000 fine.
Records from the Youngstown City Health District show there were 214 reported dog attacks from May 2009 to November 2011. Of those, 47 were attributed to pit bulls, 21 to German shepherds, 18 to Labrador retrievers and 13 to Rottweilers. The remaining 115 were attributed to mixed-breed dogs.
During this same period, there were six pit-bull related court cases. One person faced jail time of three days, one person's case was dismissed and the other four faced fines and penalties of no more than $300.
"The ordinance hasn't been as successful as we had hoped, but it is still something that has done some good in this area," said Annie Gillam, 1st Ward councilwoman.
Former councilman Artis Gillam Sr. was on the panel when the law was first passed.
"There was a public outcry in Youngstown to get control of the large amount of pit bulls that were roaming the streets," he said. "We had to implement a system that corralled the breed. It also put restrictions and stipulations on owning the breed, so that there would be less in the area and we could get control of the problem."
Brown said at the time he was very upset with council's decision. "In 2007 and 2008, you would see pit bulls let go. People abandoned these dogs because of these laws. I really thought that it was unfair to pass judgment on a specific dog," he said.
Effectiveness of the law has been hampered for two reasons: a controversy between Mahoning County and city officials over who will enforce it, and the difficulty in identifying a dog as a pit bull.
"I was invited to the [city coucil] vote when it passed, and the paperwork looked right to me," said Sean Toohey, deputy county dog warden. "Then [a city councilman] told me that the Mahoning County Dog Warden was going to enforce it. I told him, 'No we're not.'" ... Until the city and the county come together for some type of agreement to enforce city laws there is nothing we can do about city ordinances, including the pit-bull ban."
City police have faced a significant hurdle during the five years the ban has been in effect.
"As far as who is responsible for the enforcement, it would ultimately be the police department," said Rod Foley, police chief. "However, the ordinance never took into account that we are not in the kennel business. Several attempts to establish a contract with the city and the county dog warden's office have failed. Therefore, the ordinance has not been as effective as hoped."
There is another problem: identifying a pit bull.
Toohey estimates that there are about 9,000 pit bulls in Mahoning County, with only 3,000 properly registered. Many dog owners registered their pit bulls as boxers or bulldog mixes to avoid the state and city's insurance liability and leash laws. Other owners just don't know if their pet is a pit bull or a pit-bull mix.
"Most people don't realize how difficult it is to identify a pit bull from other dogs," said Toohey. "There are several breeds [at least 25] that have the general appearance of a pit bull but are a totally different breed."
Dr. Donald K. Allen has been a veterinarian in Youngstown for more than 15 years. "To the untrained eyed, selecting a pit bull out of a group of mixes and similar looking breeds can be difficult. You can tell a pit-bull terrier by the shape of the head, cheek muscles and general [blockiness] to their build," he said.
Allen said the registration process is flawed. "The pounds have not been following the [city and — at the time — state] directive and are labeling dogs other things, even though they're pits, just to get them adopted."
Ever since bans and restrictions on pit bulls were enacted by the state in 1987, finding homes for these dogs has been difficult, said Toohey. "They are the least adopted dog we have here. [In 2010,] 172 total dogs were euthanized ... the majority of these dogs were pit bulls."
Ohio law now uses a three-category system to describe problem dogs: nuisance, dangerous and vicious. Nuisance dogs are those that have chased or attempted to bite people while not on their owners' property. Dangerous dogs would be those that have had three nuisance violations, or have injured people or killed other dogs, again off the owners' property. Vicious dogs would be those that have killed or seriously injured someone without provocation off the owners' property.
Toohey said laws can be enacted that place primary responsibility for a dog's behavior on the owner, regardless of the dog's breed — targeting the chronically irresponsible dog owners. "Pit bulls are naturally protective breeds that sometimes show aggression. It is up to the owner to recognize that and socialize the dog accordingly. Like any dog, when given the proper training, they behave very well."
Officials do not believe the city law is terminally flawed.
"The expectation was to eliminate this breed of canine from the city for a public standpoint. Would it totally eliminate these animals? No. But it gives the city a tool to address these complaints," said Foley.
There are those who feel safer that there are anti-pit-bull laws on the books.
"I definitely think the pit-bull ban is there for a reason," said Dustin Shirley of Struthers. "When I was about 8 years old, my pet pit bull attacked me in my backyard — unprovoked. I almost lost my eye and had to receive 20 stitches around my eye socket."
But pit bulls also have their advocates, including Brown, who said a pit bull's temperament depends on how it is raised.
He said the traits that make a pit bull a good watchdog and family dog — its strength and intelligence — also make the breed appealing to people who would use it for nefarious purposes, like dogfighting.
"When I bred my dogs, I had one stipulation when I sold my puppies: Everybody who bought a dog must have children or be married or be trying to having a family. In the wrong hands, it's just like a gun," he said.
— Vindicator reporter Ashley Luthern contributed to this article.
TheNewsOutlet.org is a collaborative effort among the Youngstown State University journalism program, Kent State University, University of Akron and professional media outlets including WYSU-FM Radio, The Vindicator, The Beacon Journal (Akron) and Rubber City Radio (Akron).