4 Valley residents charged with conspiracy to defraud U.S.
By JOHN W. GOODWIN JR. | jgoodwin@vindy.com
YOUNGSTOWN
US vs. Hinz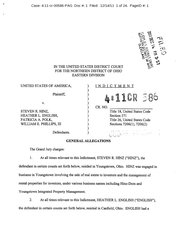 Document
Indictment CR No. 4:11CR 586 - United States of America vs. Steven R. Hinz, Heather L. English, Patricia A. Polk, and William E. Phillips, III.
Youngstown's Steven Hinz had an idea. Federal officials would dub it a scheme.
It involved an obscure federal tax form for acquired or abandoned property, as well as income allegedly generated and then withheld. He partnered with Patricia Polk of Youngstown to see if it would work.
It did.
In February 2009, Polk received a tax return of $160,444.
Authorities said Hinz, of North Heights Avenue, celebrated with this email:
"We did it! The first six figure 1099 OID return has been received! We came, we saw, we kicked BUTT! We have received our second OID Federal Tax Return and as promised in a previous email this one was 6 figures."
That success launched Hinz, Polk and two others on a two-year spree that would use 14 other people, several businesses and, ultimately, bilk federal taxpayers out of more than $3 million.
Hinz, Polk, Heather English of Canfield and William Phillips III of ¥oungstown are set for trial in October on a 21-count federal indictment. Charges include making false returns as well as aiding and assisting preparation of false returns.
Hinz, according to Vindicator files, attempted to run for city council in the 3rd Ward in 2007 as an independent but was disqualified and did not appear on the ballot. He moved to the area in the late 1990s and has acquired at least 19 parcels of property in the city.
The basic explanation of the case is these individuals are alleged to have prepared and filed tax returns with the Internal Revenue Service and received large tax refunds based on false tax withholdings, said Craig Casserly, public information officer for the IRS Criminal Investigations division for Ohio.
The federal indictment says Hinz was involved in the acquisition and sale of real estate to investors and the management of rental property for investors in Youngstown under various business names including Debt Busters, Hinz-Dom and Youngstown Integrated Property Management.
According to the indictment, Hinz and the three other defendants were part of a scheme to prepare and file false income tax returns using fake "original issue discount" (OID) and fake "acquisition or abandonment of secured property" forms.
The forms falsely reported the withholding of large amounts of federal income tax based on nonexistent income for the four defendants and others for whom they prepared tax returns.
The scheme took place from October 2008 through at least August 2009.
Hinz and English, according to the indictment, used the forms themselves and persuaded taxpayers to file tax returns using the bogus forms. They promoted the scheme to investors in and employees of Hinz's real-estate business and people they met at seminars.
Hinz and English offered to prepare tax returns for taxpayers for up to a $350 upfront fee plus 20 percent of the "tax benefit" from using the OID process.
Besides the four people mentioned in the federal indictment, there were tax forms prepared and filed for 13 additional people. The scheme ultimately bilked the federal government out of $3,157,231.
The indictment claims the scheme went on after IRS agents learned of the payments and demanded that the money be paid back.
Those involved in the scheme, the indictment says, provided the IRS with more fraudulent documents to avoid repayment of the money and refused to give money back to those who paid to have taxes filed under the OID scheme so that the money could be repaid to the federal government.
It is not clear in the indictment how much of the money has been recovered.
All four of those charged in the indictment are due in federal court Oct. 4 and are set for trial Oct. 22.