Lemon Grove celebrates arts, food at new site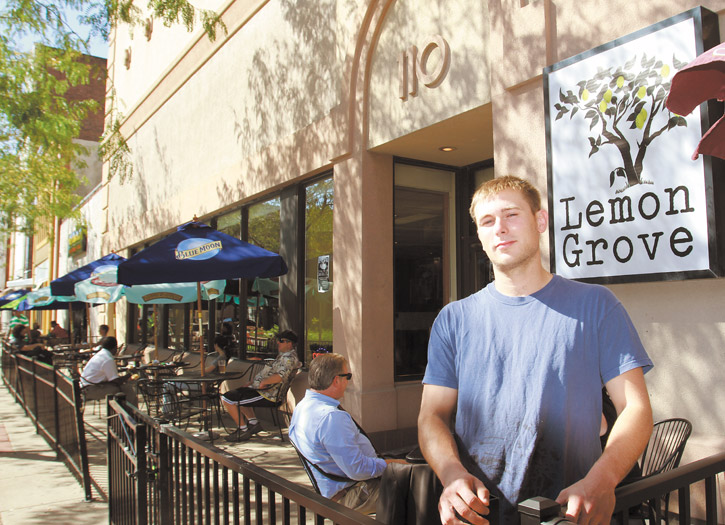 ---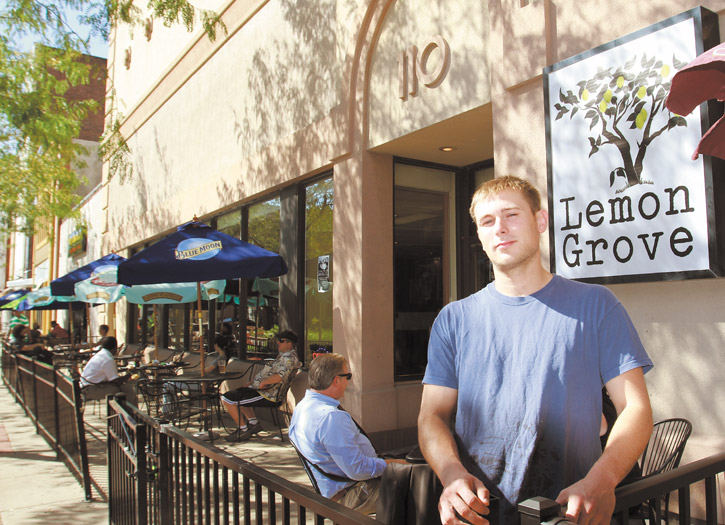 Photo
Jacob Harver, the owner of The Lemon Grove, stands in front of the restaurant's new location at 110 W. Federal St., where a grand-opening event will be Thursday starting at 7 p.m., featuring local music and food.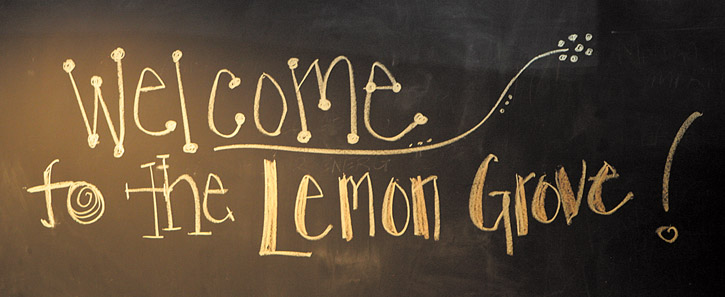 Photo
Lemon Grove is holding its grand opening on Thursday. They moved to a new location at 110 W. Federal St., Youngstown.
YOUNGSTOWN
Lemon Grove owner Jacob Harver remembers, as a boy attending preschool at First Presbyterian Church in Youngstown, taking trips downtown with his class.
Later, when Harver was in high school, he had more freedom to wander into such city mainstays as Cedar's Lounge.
Today, Harver's restaurant and bar is just as much about the city's past as it is about its present and its future.
So, on Thursday, when The Lemon Grove marks both its third year in business and the grand opening of its new location at 110 W. Federal St., where the Rosetta Stone Cafe and Lounge was once located, it will celebrate the community and some of the people who have fought to renew the city's downtown.
"The motivation from the beginning was really just to be a part of the downtown," Harver said as he sat sipping coffee at a table that overlooked a sweeping new dining room featuring artwork and a sculpture rising from the bar out over the main floor. "It hasn't been a life dream to own a bar or cafe or something, but it's always been a desire to be involved with the culture and the people."
Grand-opening events begin at 7 p.m. Thursday. The Lemon Grove will feature a special menu put together by local chef Rasul Welch, who has achieved international success as a food photographer working closely with some of the world's leading chefs.
"I have a lot of respect for Jacob and the way he's tried to build a business socially," Welch said. "I'm really excited about the pot-sticker appetizers. It's one of my favorite things to make; they sort of melt in your mouth with this crispy, deep-fried flavor, but they're still sophisticated."
Pan-roasted pork loin and Gaucho steak will be among several other menu options. The event will be emceed by Richard Elmsworth, also known as Ultimate Donny of the Youngstown band Gil Mantera's Party Dream.
After dinner service, The Tribe of Eos Bellidancers, local indie-rock band The Zou and DJ Dennis Thomas also will be on hand.
Renovating the space at 110 W. Federal St., which first opened last week, was a community effort with local artists Jason Van Hoose and Paris Kreich contributing work.
Khaled Tabbara of The Zou said his band "didn't even think twice" about playing the grand opening.
"We love the Lemon Grove — it's a great venue, and it's a great asset for downtown Youngstown," he said. "Beyond the beauty of the new venue, [Harver's] mission is a social one, and I really do feel like it's a culture over there."
But Harver said that culture doesn't exclude anyone. He expects hundreds to be on hand throughout the evening Thursday. As the restaurant moves forward, the expanded space will allow the Lemon Grove to move forward with its vision of more concerts and more art, something Harver said will continue to draw an eclectic clientele.
"We're trying to provide food as art; the culinary experience is an art form," Harver said. "We want to do things that are interesting for everyone. So at 7 p.m., bring the family down for a dinner that you can't get anywhere else."