A new menu to sink your teeth into
---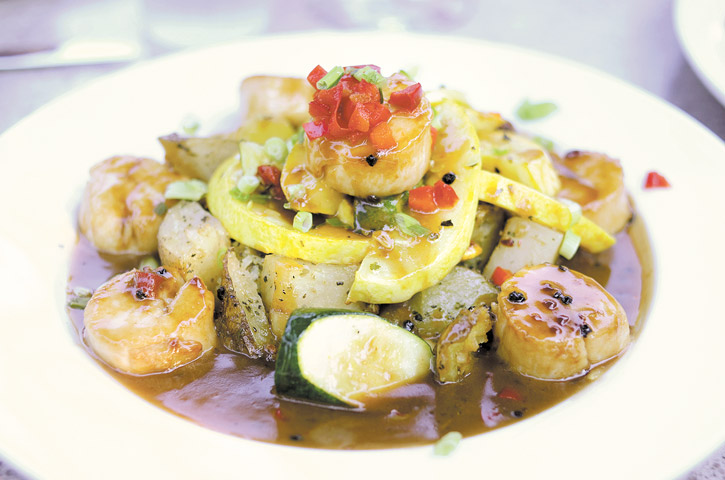 Photo
Bourbon Scallops served with roasted potatoes and a vegetable medley in a Jim Beam bourbon sauce at L'uva Bella Winery.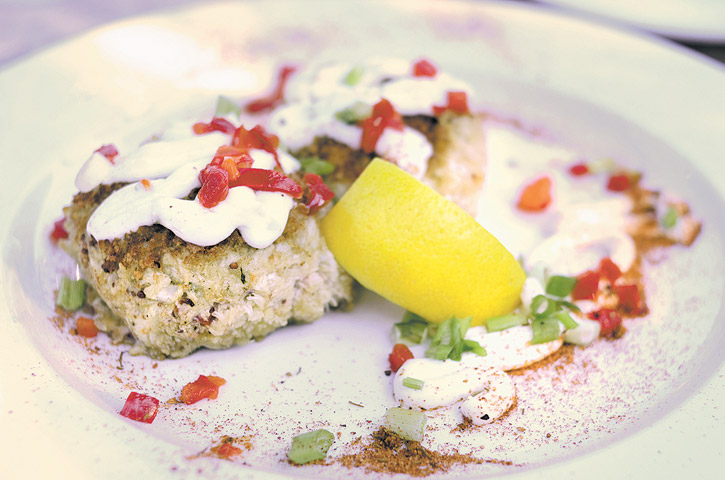 Photo
L'uva Bella's Crab Cakes.
When You Go...
Where:
L'uva Bella Winery
6597 Center Road
Lowellville, OH
Hours:
Thursday-Saturday: 11:00pm – 11:00pm
Sunday: Noon – 6:00pm
Website:
Food:30
L'uva Bella Winery expands to meet your palate's desires.
During our Friday "date night" I think I was somewhere into my second glass of blackberry wine when I surrendered to the fact that this heat was not going anywhere for a few more weeks.
As we enjoyed the end of this summer day on a patio, I also accepted that I wasn't going to stop sweating. My beautiful wife wasn't judging the amount of sweat rolling down my forehead into my collar either; she was just happy I was wearing a shirt that wasn't camo and I matched for once.
Matching wasn't a mistake tonight; you see I take my date nights very seriously with my wife. Friday night means I want to sit and relax at a place where we feel at home. L'uva Bella Winery, located off route 224 just before the Ohio-Pennsylvania border, is one of those special places.
We are both very familiar with L'uva Bella because we frequent it regularly, but recently it has added a full-on menu that would rival most menus in this area. I fell in love with the wine first but then became married to the food.
To accompany our sweet wine we decided to go with two appetizers; the Crab Cakes ($12) and Saut ed Italian Greens with Sausage ($8).
Crab cakes are my wife's favorite, and tonight she described them perfectly by exclaiming they were "Seafoodly delicious!" I agreed as I bit into one of the two decent-sized cakes, which were moist, spiced perfectly and drizzled with a subtle tzatziki sauce.
The greens seemed more like a soup in a bowl with sweet fennel-flavored sausage and a little kick that made Steph exclaim, "Holy ting tang!" Her descriptions are always my favorite. The greens had a nice crunch with soft edges wilted by the heat.
All this came with a generous portion of homemade bread that absorbed the smoke of the imported Italian brick pizza oven it was baked in. That smoky bread was great to use like a sponge and soak up what I considered the broth of the sausage dish.
With our third glass of wine we met our entr es. Pan Saut ed Grouper with Mushroom Marsala ($17) served over a bed of roasted garlic risotto, and Bourbon Scallops ($21) served with roasted potatoes and a vegetable medley in a Jim Beam bourbon sauce.
Grouper can be fishy in taste, but this grouper had taken on the mushroom Marsala flavor to eliminate any overpowering fish taste. The garlic risotto could have stood alone on the plate because it was perfectly cooked and in a light buttery sauce with a hint of garlic.
The scallops also were seared nicely and guarded a heap of potatoes and vegetables. An amazing bourbon sauce surrounded all this, adding a new profile to the whole dish. I was glad to see scallops on a plate with something other than pasta or rice.
The rustic seasoning of the vegetables and incorporation of the bourbon made this dish seem more like something to enjoy in the fall rather than a summery seafood dish, but it was delicious all the same.
This unorthodox pairing can be attributed to the chef, Jeff Canzonetta, who handcrafted this menu with the mindset that guests would be enjoying this food in the romantic setting that is L'uva Bella.
A trip to L'uva Bella Winery will be full of meeting wonderful people who are enjoying fermented grapes from around the world and looking to fill their stomachs with food that matches the quality of its vino.
With the addition of a full menu, it has separated itself from the traditional winery and matched the upper scale restaurants in this area.
Enjoy your next night out as summer fades to fall with a nice glass of wine and a delicious dish at L'uva Bella Winery.
About Food:30
We are offering a glimpse into local restaurants and eateries, reviewing their food offerings.
Check out our blog on www.vindy.com/news/valleyfood