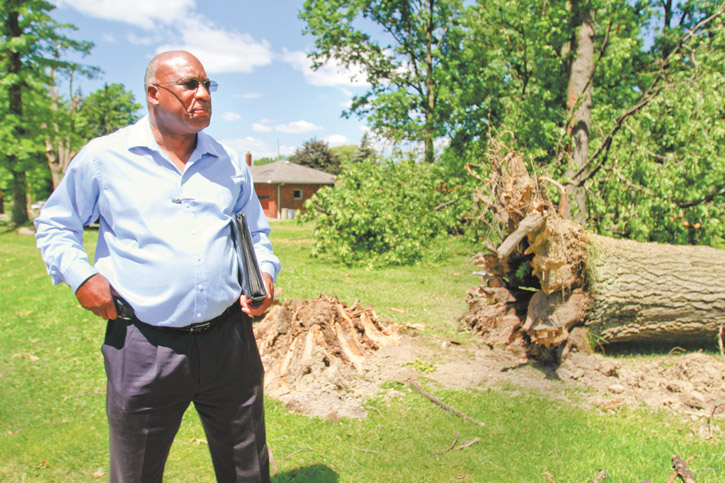 Photo
A summer storm Sunday left parts of Girard - Park Ave- Shannon Rd area on the northwest side of Girard with Trees down damage roofs etc. William M Comeaux - Meterologist from National Weather Service - Cleve- surveys the damage just east of Shannon Road.
By Danny restivo
GIRARD
Weather officials have classified Sunday afternoon's storm as a tornado.
The National Weather Service in Cleveland said severe weather that caused damage to the Girard area was an F-0 tornado on the Fujita Scale, the weakest on the scale.
An NWS survey team investigated the damage in Girard on Monday and said circular patterns in lying debris were the result of a tornado. NWS meteorologist Jim Cosarik said the funnel made intermittent contact with the ground as it traveled along a three-mile path that caused much of the damage in the city.
William M. Comeaux, an NWS meteorologist, surveyed the area and said certain thresholds had to be met before the storm could be deemed a tornado. He said damage from the storm was the main indicator of whether it was a funnel or a severe thunderstorm. Comeaux said Sunday's weather created 70 mph winds that uprooted trees and damaged homes in Girard. The afternoon weather also caught some residents by surprise.
Joe and Bernice Kren live at the intersection of Gary and Park avenues. Their home was along the three-mile path the tornado traveled. Joe said he was grilling steaks while listening to the Cleveland Indians radio broadcast when the tornado hit.
He said he didn't hear anything about a possible tornado or thunderstorm until he started seeing debris from trees swirl around his backyard. "When I saw the debris, I thought this has to be a tornado," he said.
He said he realized the tornado sirens didn't come on until after the storm passed. The fire department is responsible for issuing the sirens in Girard, but firefighters said they never received a warning from the NWS or the Trumbull County Emergency Management Agency. NWS officials said they were notified by the Trumbull County EMA of funnel clouds in the area, before they issued a warning.
The warnings and the sirens were issued after the tornado had passed, said Cosarik. He said a storm or tornado advisory wasn't issued because the clusters on the radar didn't meet certain criteria for a severe weather notification.
"Something like this is not unheard of," said Cosarik. "It was extremely isolated."
No one was hurt or injured in the storm. Residents such as the Krens were calling their insurance companies to make damage claims. The Krens never lost power, but they were still without cable and phone service Monday. They said city officials did a good job of cleaning up most of the damage, and they don't blame the weather service for the incident.
"It was a freak thing," said Joe Kren. "They were doing their due diligence."