Sikh attack in Wisconsin spreads fear at temples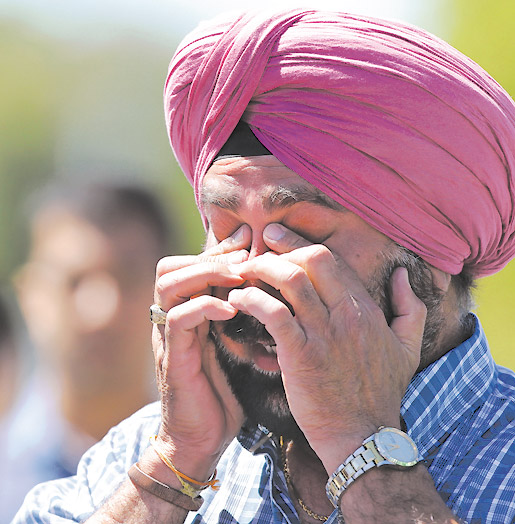 ---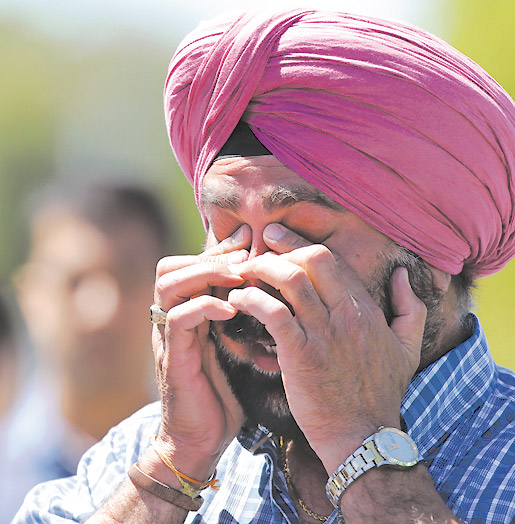 Photo
A man reacts outside the Sikh Temple of Wisconsin to a shooting there that killed at least six.
Associated Press
MILWAUKEE
The killing of six worshippers at a Sikh temple in suburban Milwaukee brought fresh worries Sunday to the half million U.S. followers of a faith whose congregants have worried about their safety since the Sept. 11, 2001, attacks, when some began targeting adherents of a peaceful religion that stresses the equality of people.
While police have not identified the gunman, who was killed by police, or described a possible motive for the Wisconsin shootings, several leaders of Sikh organizations nationwide say the killings have brought to the surface fears that have lingered since 9/11 when some ignorant about their beliefs began mistaking them for potential terrorists.
Terrified congregants hiding in closets and others texting friends outside for help in the 10:20 a.m. attack. The suspect was killed outside the temple in a shootout with police officers.
Police called the attack an act of domestic terrorism, but did not provide any details about the gunman.
"This is something we have been fearing since 9/11, that this kind of incident will take place," said Rajwant Singh, chairman of the Washington-based Sikh Council on Religion and Education. "It was a matter of time because there's so much ignorance and people confuse us (as) being members of Taliban or belonging to (Osama) bin Laden."
Late Sunday, the investigation appeared to move beyond the temple as police, federal agents and the county sheriff's bomb squad swarmed a neighborhood in nearby Cudahy, evacuated several homes and searched a duplex. Bureau of Alcohol, Tobacco, Firearms and Explosives agent Tom Ahern said warrants were being served at the home of the gunman.
"He did not speak, he just began shooting," said Harpreet Singh, relaying a description of the attack from the wife of his uncle, temple president Satwant Singh Kaleka.
Singh said Satpal Kaleka told him she was in the front room when the shooter walked in. She said the 6-foot-tall bald white man — who worshippers said they had never before seen at the temple — seemed like he had a purpose and knew where he was going.
Oak Creek Police Chief John Edwards said police expected to release more information Monday. He said the FBI will lead the investigation because the shootings are being treated as domestic terrorism, or an attack that originated inside the U.S.
"While the FBI is investigating whether this matter might be an act of domestic terrorism, no motive has been determined at this time," Teresa Carlson, Special Agent in Charge with the agency's Milwaukee division, said in a Sunday night statement.
abundance of caution in and around Sikh temples.
Harkirat Sandhu, 45, of Hanover Park, Ill., a member of Sikh Religious Society of Chicago for more than 10 years, said he worried more Sikhs could be targeted.
"The Sikh community is a peaceful community," he said. "We don't believe in this type of hate and crime. We condemn this situation."
"Americans of all faiths should stand in unified support with their Sikh brothers and sisters," said Sapreet Kaur, executive director of the New York-based Sikh Coalition, the largest Sikh American civil rights organization in the U.S.
President Barack Obama and his presidential challenger, Mitt Romney, expressed their sorrow in statements. South Carolina Gov. Nikki Haley, whose parents are Sikh, posted a statement with condolences to "the innocent victims and the family of the heroic officer" on her Facebook page.
Kaur, the filmmaker, said she was encouraged by the outpouring from others, unimaginable a decade ago.
"My phone has been ringing off the hook," she said. "That gives me hope. Any expressions of solidarity, messages, prayers, will be felt not only by Sikhs in Milwaukee but all over the country."
———
Those contributing to this story included Associated Press writers Jeffrey Collins in Columbia, S.C., and Sophia Tareen and Michelle Janaye Nealy in Chicago.