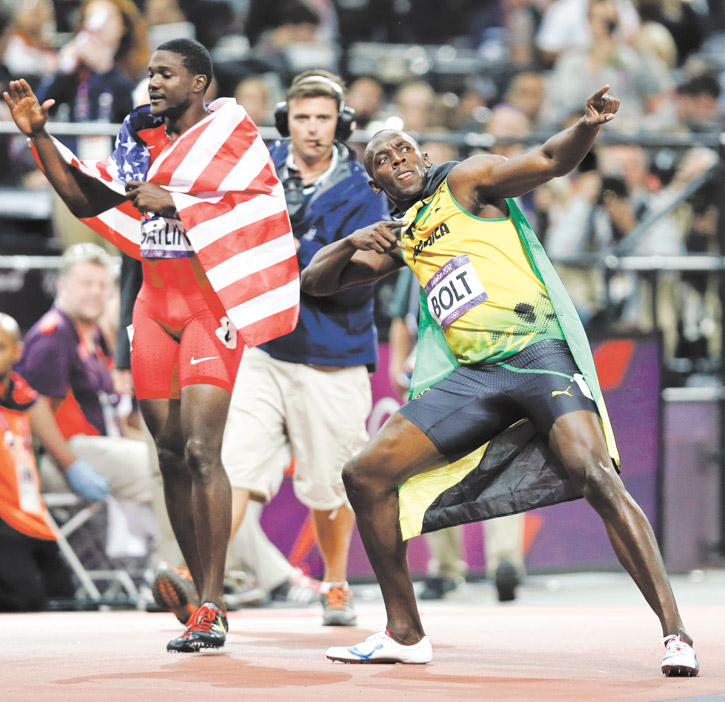 ---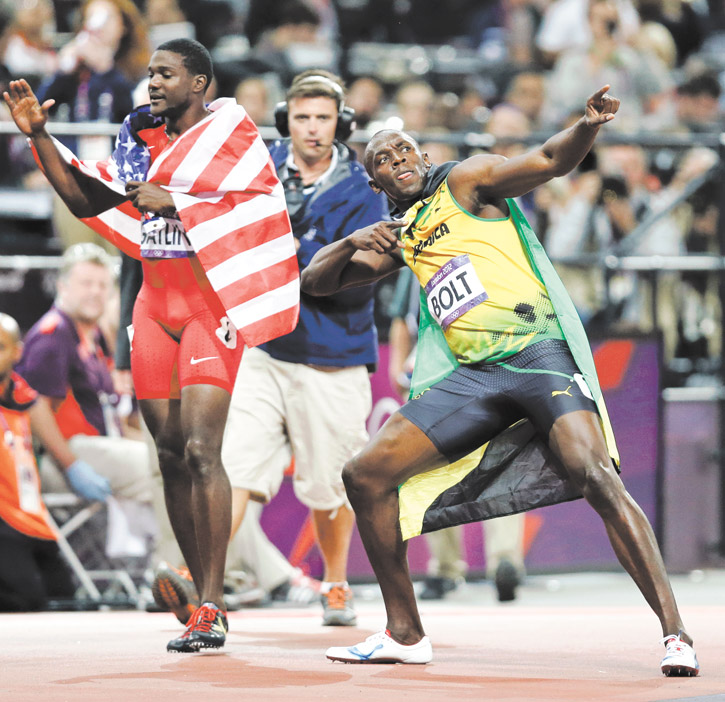 Photo
American Justin Gatlin, left, and Jamaica's Usain Bolt celebrate their medal-winning performances in the 100-meter dash during Day 9 of competition at the 2012 Summer Olympics in London. Bolt raced to a gold, joining Carl Lewis as only men to repeat as 100-meter champs. Gatlin earned bronze.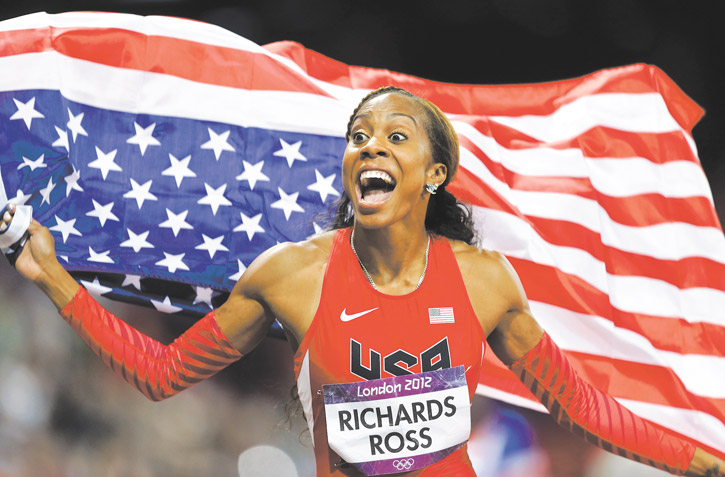 Photo
Sanya Richards-Ross waves the American flag after winning the women's 400-meter during Day 9 of competition at the 2012 Summer Olympics in London. Compatriot Deedee Trotter joined Richards-Ross on the podium as the bronze-medal winner.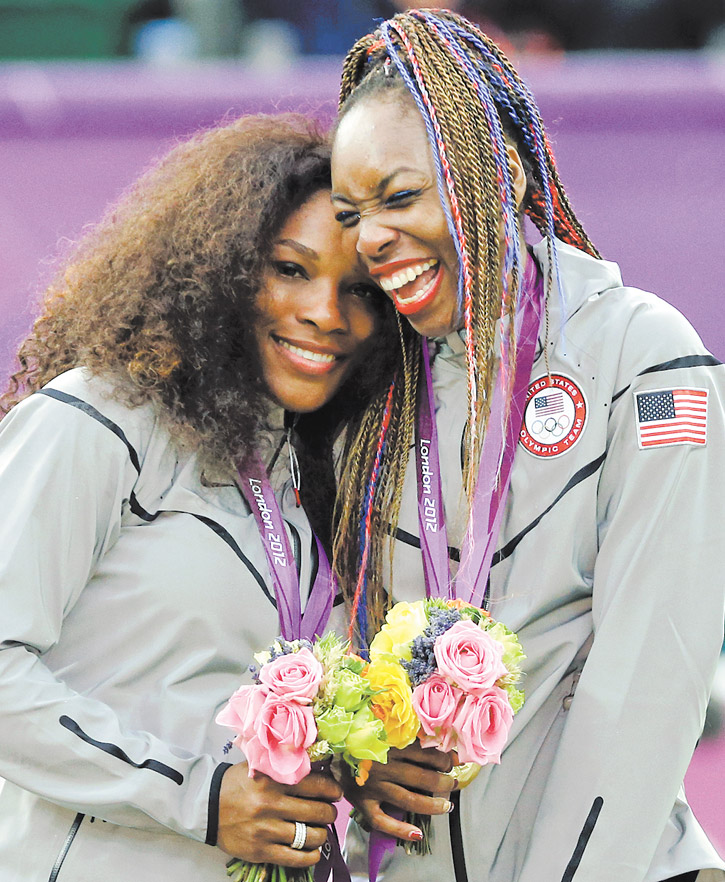 Photo
Serena Williams, left, and Venus Williams of the United States laugh together on the podium after receiving their gold medals in women's doubles at the All England Lawn Tennis Club in Wimbledon, London at the 2012 Summer Olympics, Sunday, Aug. 5, 2012. (AP Photo/Elise Amendola)
Jamaica's Usain Bolt breaks Olympic record, repeats in 100
Associated Press
london
Lining up for the Olympic 100-meter final, Usain Bolt wrapped up his signature prerace preening by lifting a finger to his lips.
Shhhhhhh.
Time to silence the critics.
He might not be better than ever. Clearly, he's back to being the best.
Pulling away from the pack with every long stride, Bolt surged after his typical lumbering break from the blocks and overwhelmed a star-studded field to win in 9.63 seconds Sunday night, the second-fastest 100 in history and an Olympic record that let him join Carl Lewis as the only men with consecutive gold medals in the Summer Games' marquee track event.
"Means a lot, because a lot of people were doubting me. A lot of people were saying I wasn't going to win, I didn't look good. There was a lot of talk," Bolt said. "It's an even greater feeling to come out here and defend my title and show the world I'm still No. 1."
Only sixth-fastest of the eight runners to the halfway mark, Bolt was his brilliant self down the stretch, his latest scintillating performance on his sport's biggest stage. At Beijing four years ago, the 6-foot-5 Bolt seemingly reinvented sprinting and electrified track and field, winning gold medals in world-record times in the 100, 200 and 4x100 relay — something no man had ever done at an Olympics.
And the significance of Sunday's sequel?
"One step closer to becoming a legend," Bolt said. "So I'm happy with myself."
Ever the entertainer, the Jamaican kept right on running past the finish for a victory lap that included high-fives with front-row fans, a pause to kneel down and kiss the track and even a somersault. Thousands in the capacity crowd of about 80,000 chanted the champion's name: "Usain! Usain! Usain!"
Bolt's training partner and Jamaican teammate, world champion Yohan Blake, won the silver in 9.75, and 2004 Olympic champion Justin Gatlin of the U.S. took the bronze in 9.79.
"It just feels good to be back," said Gatlin, who served a four-year ban after testing positive for excessive testosterone.
"To be honest, I went out there to challenge a mountain. I went out there to challenge the odds. Not just myself and everything I've been through, but the legacy of Usain Bolt," Gatlin said. "I had to go out there and be fearless."
Everyone in the final broke 10 seconds except former world-record holder Asafa Powell of Jamaica, who pulled up with a groin injury.
On the women's side, disappointment, tears and that oh-so-unsatisfying color — bronze — are all in the past for Sanya Richards-Ross.
On this trip to the Olympics, she closed the deal.
Four years after a late fade left her crying and wearing the Olympic bronze medal, Richards-Ross won the 400-meter gold she always thought she could.
"What I have learned is you don't win the race until you win the race," Richards-Ross said. "I knew I had to cross the finish line first to call myself the Olympic champion."
She did it.
Nearly banging elbows with runners on both sides of her — and with the defending champion making up ground on the outside — Richards-Ross got stronger, not weaker, this time over the last 100 meters.
She surged to the finish, won by about a body's length and punched her fist when she crossed the line in 49.55 seconds Sunday night to give the U.S. its first track and field gold medal of the London Olympics.
"I just kept saying, 'You can do this, you can do this,"' Richards-Ross said. "I just dug really deep and I'm very happy."
Defending champion Christine Ohuruogu of Britain finished second in 49.70 and American DeeDee Trotter, decked out in red, white and blue glitter on her face, won the bronze in 49.72.
This moment, though, belonged to Richards-Ross, whose parents relocated from her home country of Jamaica when she was 12, in part to advance what looked like a promising running career.
At the end, she wrapped herself in the American flag and went to the stands to embrace her husband, Jacksonville Jaguars defensive back Aaron Ross, who took time off from NFL training camp to travel to London.