Hospital playground constructed with compassion
---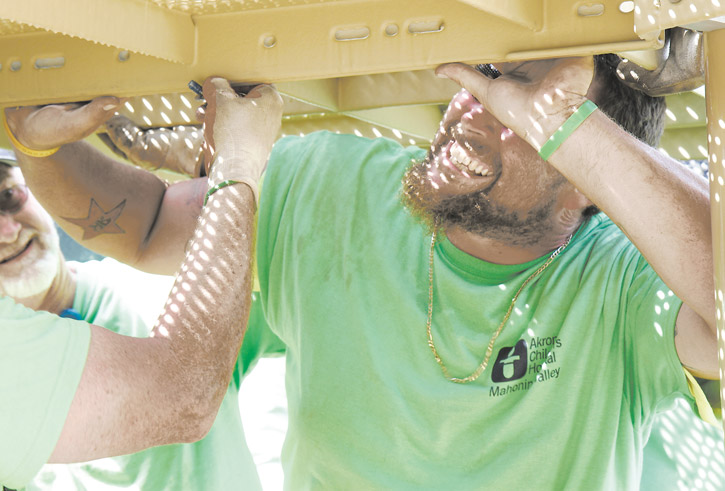 Photo
Jeff Crawford lifts a section of the play set in attempt to keep it level the the other sections during construction of Alex's Playground at Akron Children's Hospital in Boardman, Ohio. The workers constructing the play set are all volunteers.
By jeanne starmack
boardman
While the weather would not cooperate, volunteers who did gathered to build a playground this weekend at Akron Children's Hospital in Boardman.
First, there was Saturday's 95-degree muggy heat.
"We went through so much Gatorade," said Allison Vistein of New Springfield. Fifty volunteers worked to build the playground that will offer not only fun but physical therapy as well to patients at the Mahoning Valley campus of Akron Children's on Market Street.
On Sunday, a rainstorm forced an early lunch. But 37 volunteers continued, in the mud, to build Alex's Playground.
It will be the legacy of Vistein's son, Alex, who died when he was six days old from complications of necrotizing enterocolitis, a gastrointestinal disease that affects premature babies.
His twin brother, Aiden, is now 2. The twins were born nine months' premature March 11, 2010.
"Aiden spent 51/2 weeks here," said Vistein, who was on site this weekend with her husband, Mark.
The Visteins donated money that had been given to them at Alex's funeral to the hospital, she said.
JoAnn Stock, the campus' director of development, said the couple wanted the donation to memorialize their son in some way. The hospital already had been discussing the need for a playground, Stock said.
"We wanted to give back," Vistein explained.
"The hospital was so supportive of us," she continued. "They cared for Aiden and for grieving parents as well. Their compassion was above and beyond in every way."
"We know they did everything to save our Alex," she said. "This is creating a legacy for him."
Along with the Visteins' donation, the $150,000 playground was built with a $125,000 donation from the Hine Memorial Fund of the Youngstown Foundation. Other donors included the Prince and Princess contest of New Middletown; Aut Mori Grotto; and the Delphi Packard Employee Fund.
Volunteer builders included Aut Mori Grotto; Home Depot; the Austintown Rotary Club; Green Building Pros Ltd.; the Junior League of Youngstown; and Akron Children's employees.
The playground will offer audiological therapy to children who can't hear but can "feel the beat" on a set of bongos, said Vistein.
Patients from the hospital's rehab department will use the specially designed equipment, and the playground is accessible to disabled children, Stock said.
A fundraiser that is going on right now allows parents to buy a block for a "celebration wall" near the playground, Stock said. Their child's name will be carved into the block. Any parent can buy a block, not just parents whose children have been patients at Akron Children's.
Blocks are $100. Stock said the money will be used for maintenance and upkeep of the playground. Call 330-746-9122 for more information.
More like this from vindy.com