Ricciardis' 50th celebration is a family affair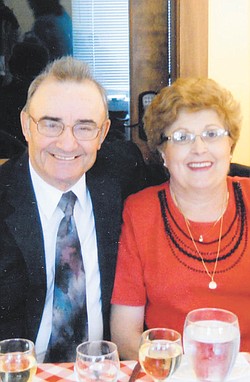 Photo
Mr. and Mrs. Andy Ricciardi
CAMPBELL
Andy and Rose Ricciardi of Campbell were the guests of honor July 29 at a family dinner for their 50th wedding anniversary at Michael Alberini's Restaurant in Boardman. Hosts of the celebration were their children, Mario and Judy Ricciardi of Boardman and Sandy Ricciardi of Columbus.
The couple have three grandchildren, Mario, Mark and Dina.
The Ricciardis were married July 26, 1962, in St. Salvatore, Toro, Campobasso, Italy.
Mrs. Ricciardi retired in 2009 from Alterations Express in Austintown, where she was a seamstress. She and her husband are members of St. Lucy Church in Campbell, where they belong to the Altar and Rosary Society and Infant Jesus of Prague Society.
Mr. Ricciardi worked at Sheet & Tube in Campbell 33 years before retiring in 1986 as a pipecutter. He then worked in maintenance for Sears Roebuck of Boardman 15 years before retiring in 2006. He also belongs to the Men's Society of the church and Locals 2162 and 1418.