During trips and parties, Antonellis are marking their 50th milestone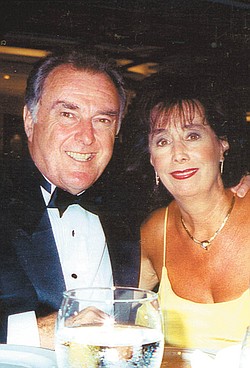 Photo
Mr. and Mrs. Ronald Antonelli
LIBERTY
Bridget and Ronald Antonelli of Liberty celebrated their 50th wedding anniversary July 14 in Las Vegas with their daughter and son-in-law, Sherri and Daniel McKeown of Boardman.
They will have another celebration during the Labor Day weekend, when their son and daughter-in-law, R.J. and Tammy Antonelli, are visiting from Raleigh, N.C.
The couple have four grandchildren, Sean and Ryan McKeown, and Maria and Marissa Antonelli. A family trip with everyone is planned for a later date.
Mr. Antonelli and the former Bridget Italiano were married July 14, 1962, at St. Edward Church in Youngstown, where they still are members.
They renewed their wedding vows at St. Columba Cathedral, also in Youngstown, on June 24 with Bishop George V. Murry officiating. Attending with them were their cousins, Mary Ann and Patrick Gaia of Youngstown, who were also celebrating their 50th anniversary, and dinner followed at Caff Capri in Boardman.
Mr. Antonelli retired as a sixth-grade teacher and director of adult basic education with the Austintown School District. He is the owner/broker of Antonelli and Associates Real Estate.
Mrs. Antonelli retired as a kindergarten teacher with Liberty School District. She is a board member of the American Cancer Society, Liberty Relay for Life, and the couple sponsor a team, Antonelli and Friends. She also is a committee member for the Cattle Baron's Ball for the Cancer Society and a member of the Daisy Dozen Garden Club.
The Antonellis are members of The Lake Club. Various dinners and trips with family and friends have been celebrated, including a trip to Put-in-Bay, Ohio, with their maid of honor Carolyn Harklerode and Leonard Anzevino, and best man and bridesmaid, Dominic and Carol Vechiarelli.